À la Death Valley, l'étape du voyage que j'attendais avec tellement d'impatience. C'était vraiment l'endroit qui me fascinait le plus. Ça a marché, c'est tout simplement grandiose. On y a passé 3 jours, à rouler, observer, profiter et surtout s'émerveiller ! Il n'y avait pas grand monde et surtout, il ne faisait pas trop froid ! La Death Valley est réputé pour être l'endroit le plus chaud sur terre en été. En novembre, c'est parfait ! Je vous laisse en vidéo + photos ! Bonne lecture…
.
Jour 9 (suite) en route pour La Death Valley
Il est temps de se diriger Petit à petit vers la Death Valley, celle que Mister A attend avec impatience. La route est longue et longe le fameux parc naturel de Yosemite. Malheureusement il fait trop froid en cette période de l'année pour y aller. Il commence à faire froid et pleuvoir. On hâte d'être dans le désert pour se réchauffer ! Premier arrêt dans une station d'autoroute un peu bruyante et au milieu de nulle part mais c'était gratuit !
Jour 10 une journée sur la route
Rien d'intéressant, nous n'avons fait que rouler rouler rouler en passant par Baskerville. À la tombée de la nuit on s'arrêtera enfin dans un petit camping désert d'un parc naturel du coin, au milieu des arbres et près d'un lac… Il n'y a personne, ça n'est vraiment pas rassurant, mais on a pas le choix. Il est tard et on n'a pas de plan B ! On finit par apercevoir une petite famille c'est rassurant, on reste !
Le lendemain on parlera un peu plus avec eux. Ils ont tout quitté suite à la maladie de leur petite dernière née pourtant en parfaite santé. Cela fait 3 mois qu'ils parcourent les routes avec une voiture qui contient leur vie, leur 3 enfants, leur chien et une tente.
On décide de mettre le cap en fin de matinée après une pluie battante. on se rapproche de plus en plus de la Death Valley !
.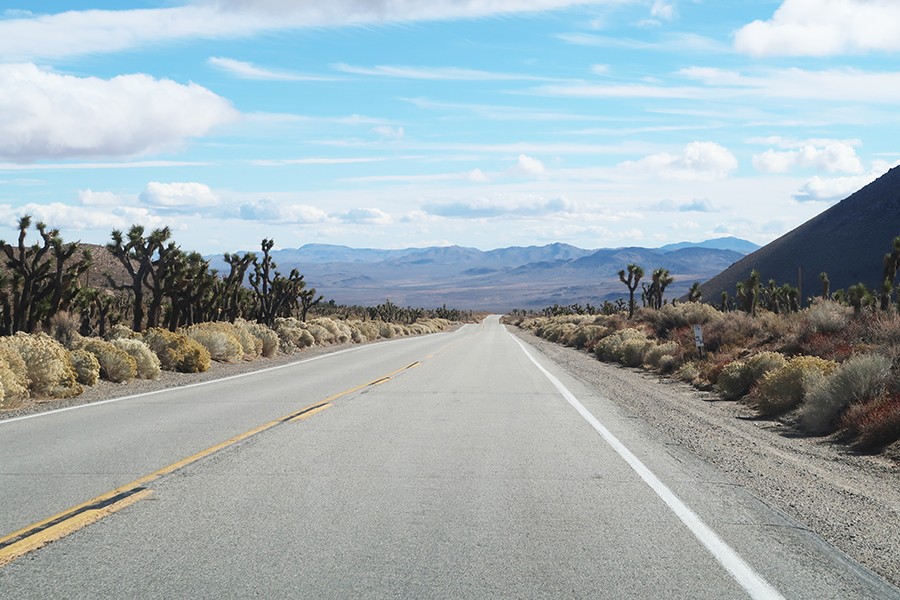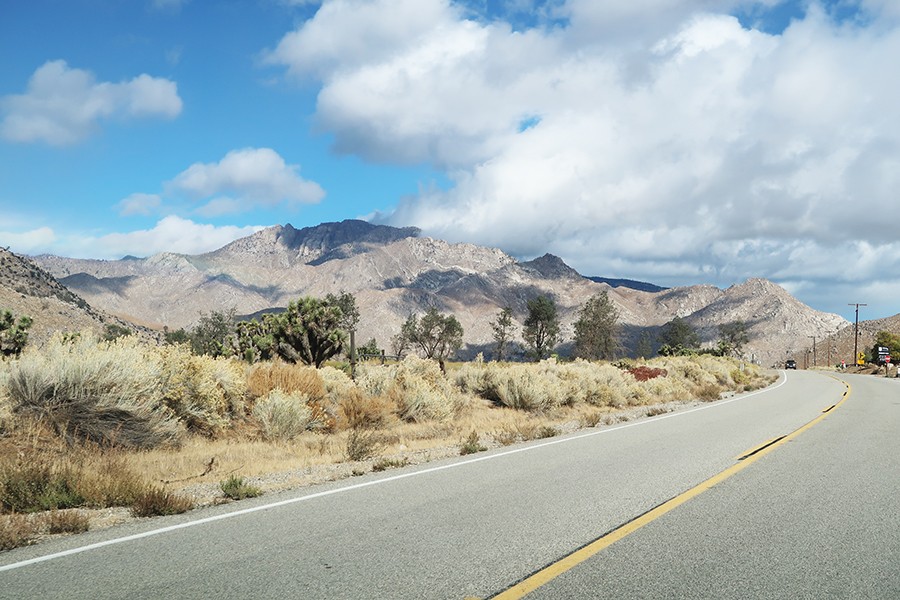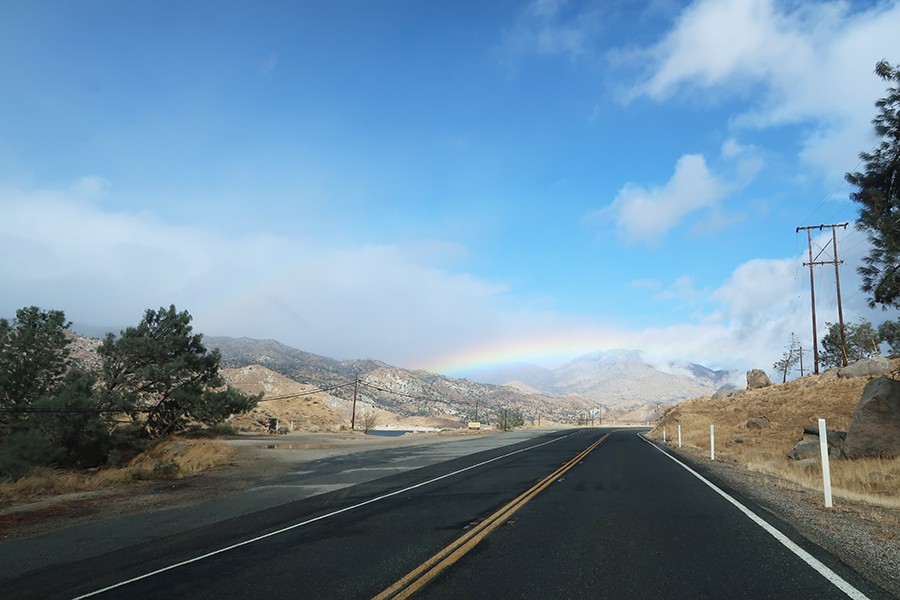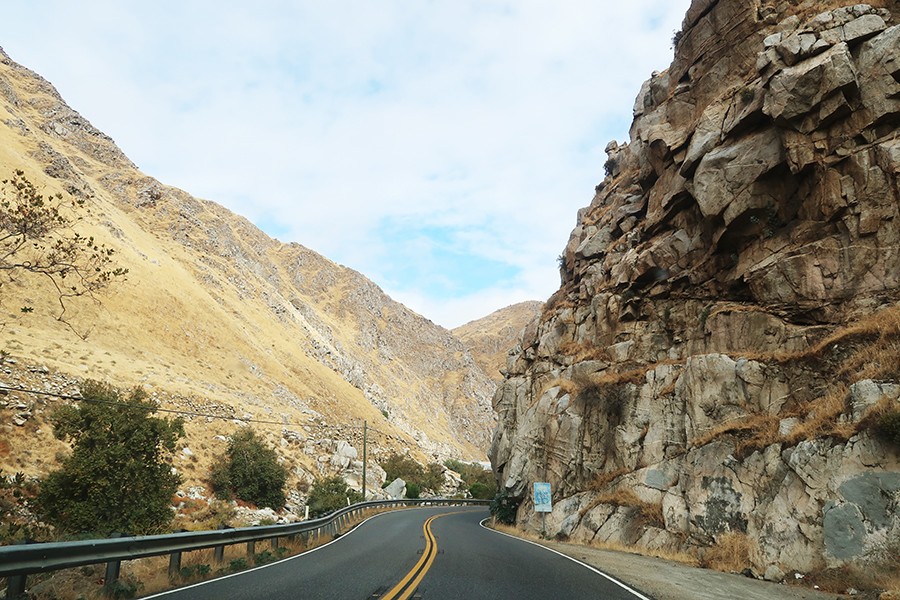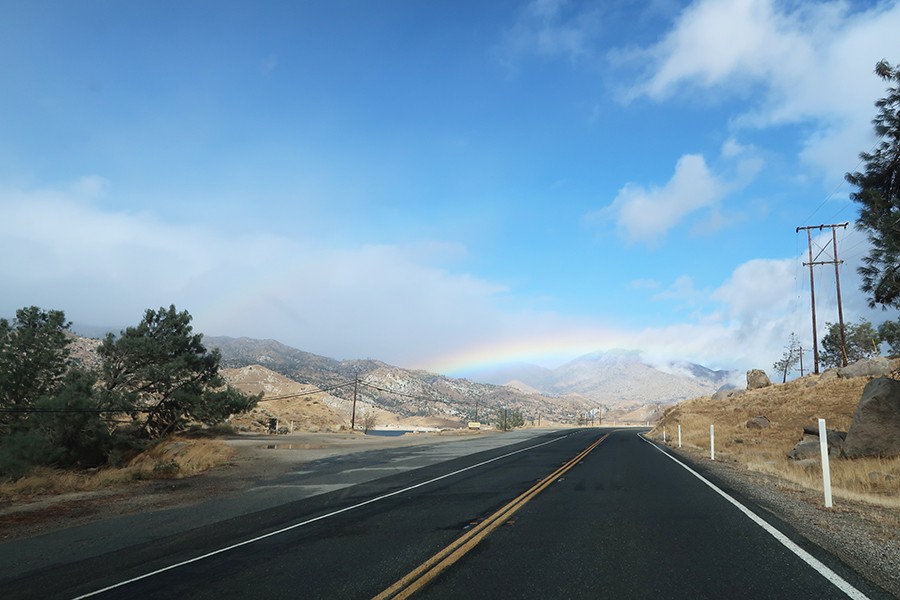 .
On y est presque !
La température commence à s'élever, le décor à changer. On arrive dans le désert et ses grandes plaines entourées de montagne au loin. Il y a beaucoup de vent, on peut à peine s arrêter, les enfants s'envoleraient ! On décide tout de même d'aller déjeuner dans un diner au bord de route. Tellement typique ! Il y a encore des potirons d'Hallowen. Le resto est désert, on commande des burgers et des mac and cheese. Forcément ! Au mur des chapeaux de cowboys, des trophées et anciennes photos. Après un bon repas, on se balade dans les alentours, on voit les montagnes enneigées, au loin, c'est superbe ! Dernière étape avant le début de la Death Valley !
.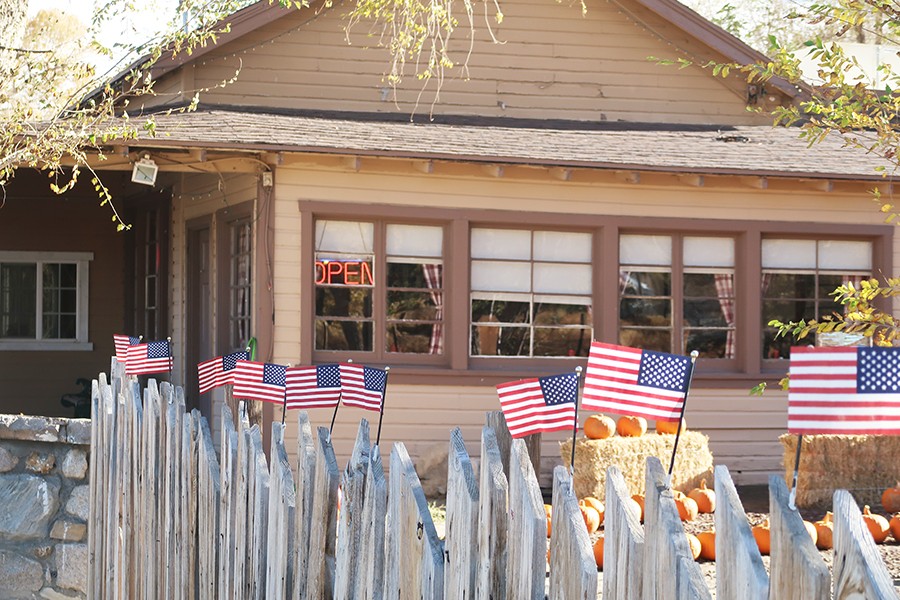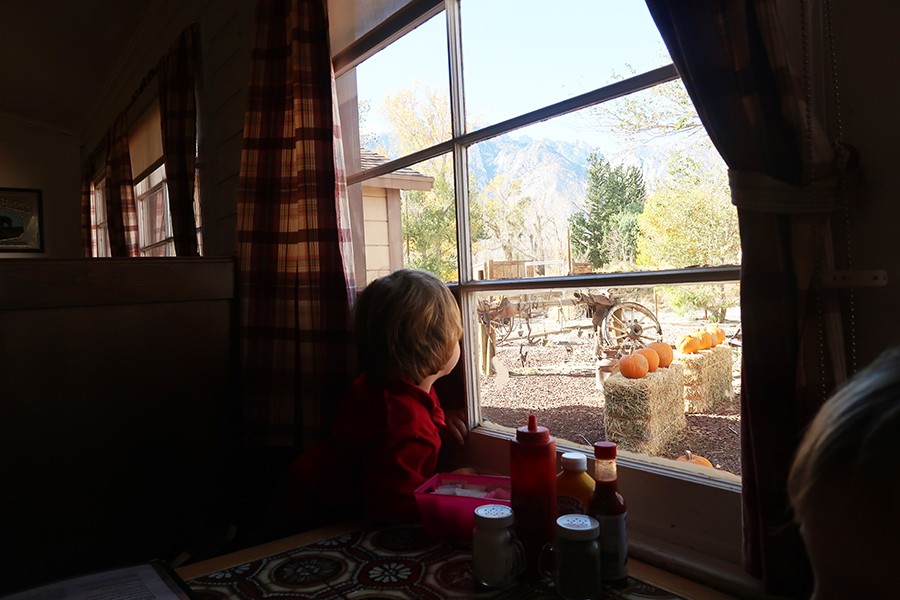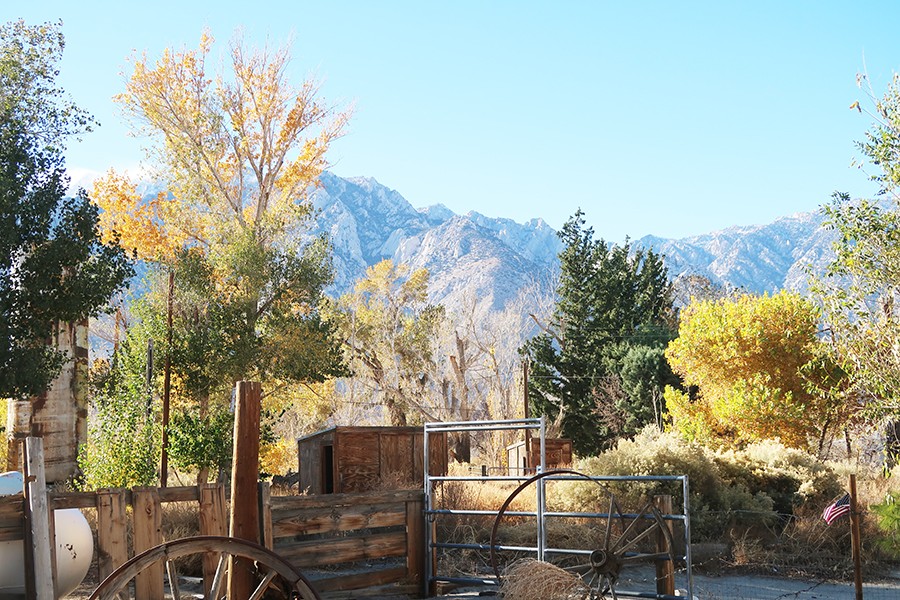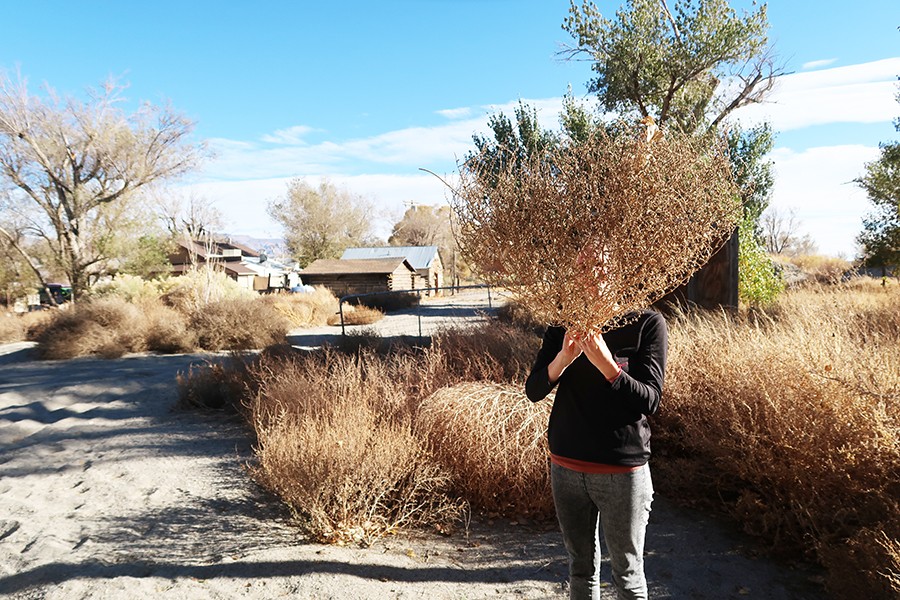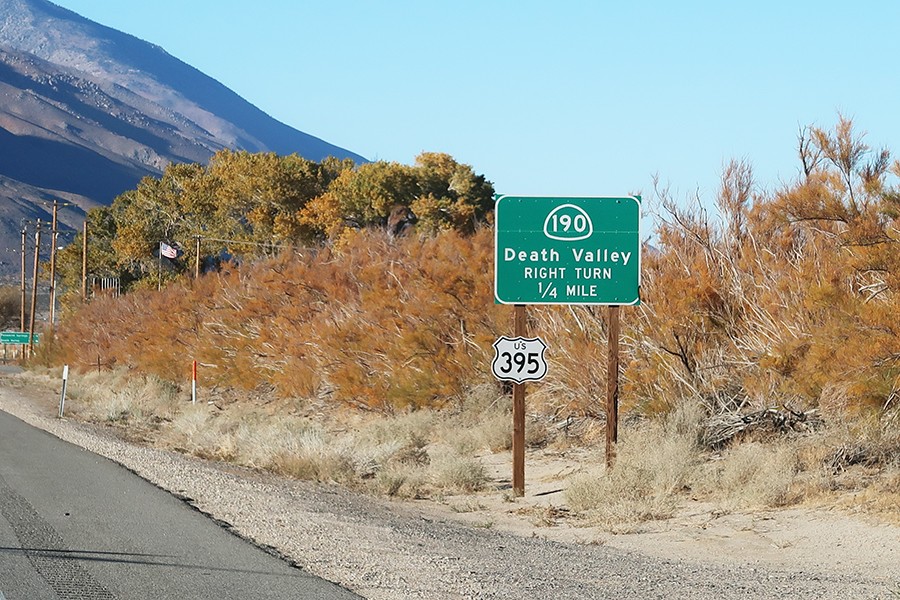 .
En route on s'arrête prendre des photos. Pendant que les enfants râlent dans la voiture, on saute comme des petits fous ! On est tellement heureux ! On s'arrêta un peu plus loin, à Panamint. Un petit camping qui nous aura coûté une dizaine de dollars. On a fait un feu et grillé des saucisses. Une nuit paisible bercée par le vent.
.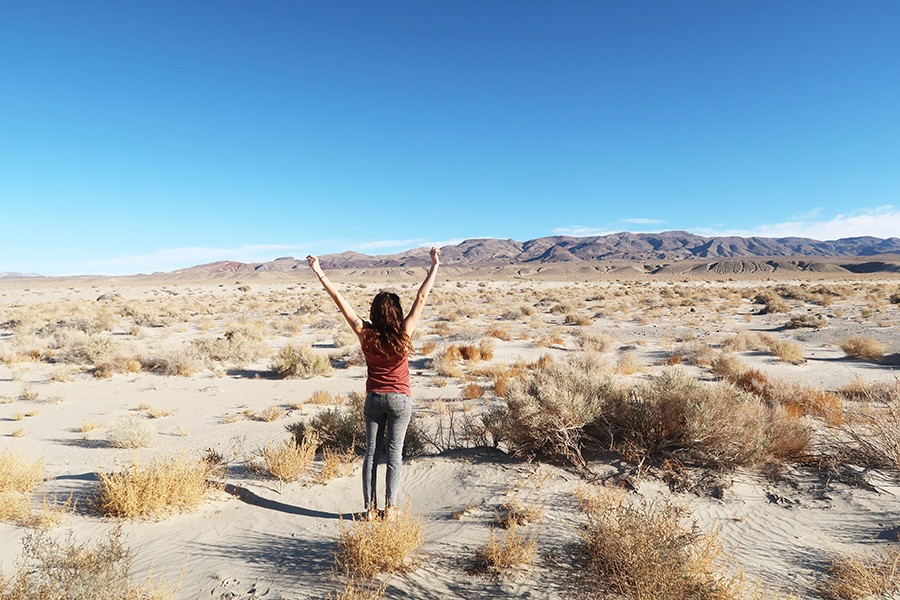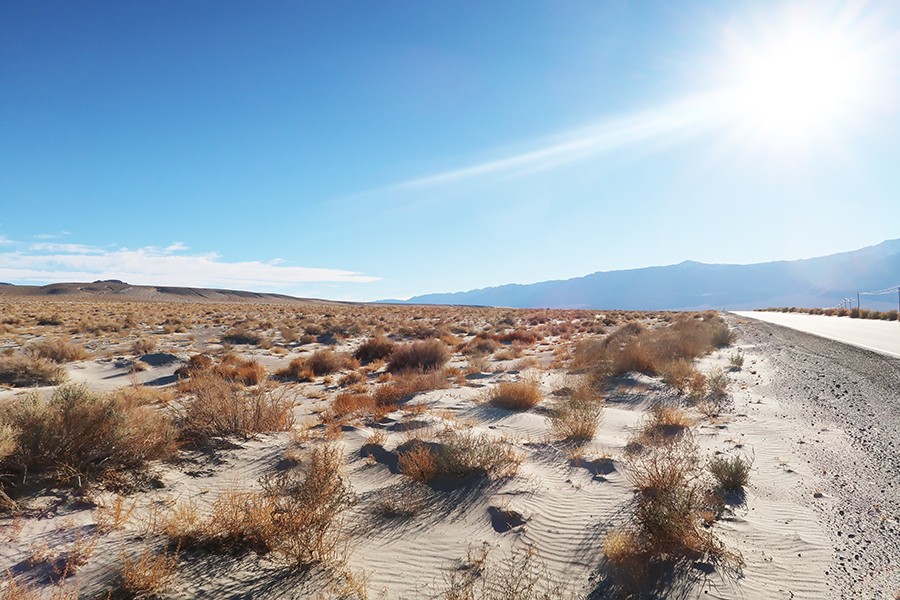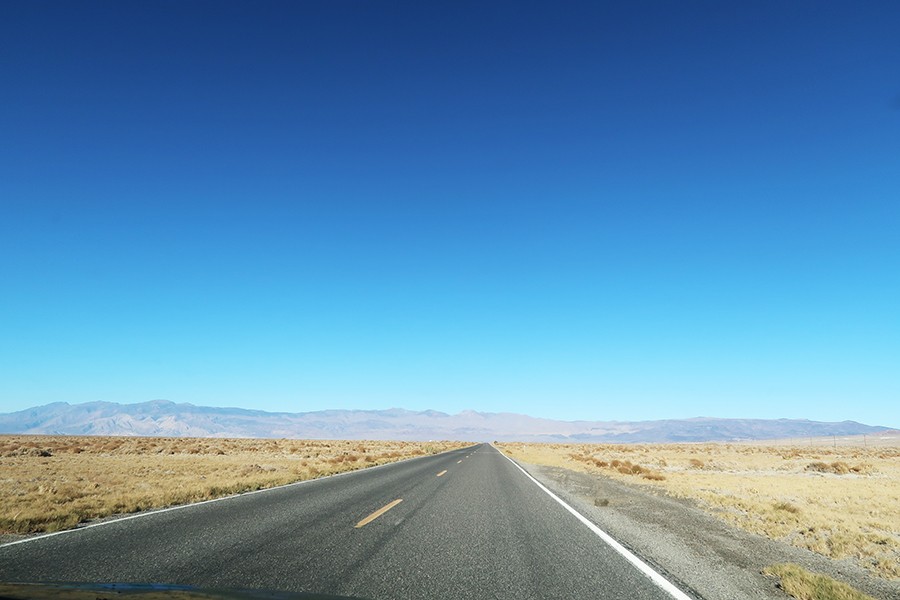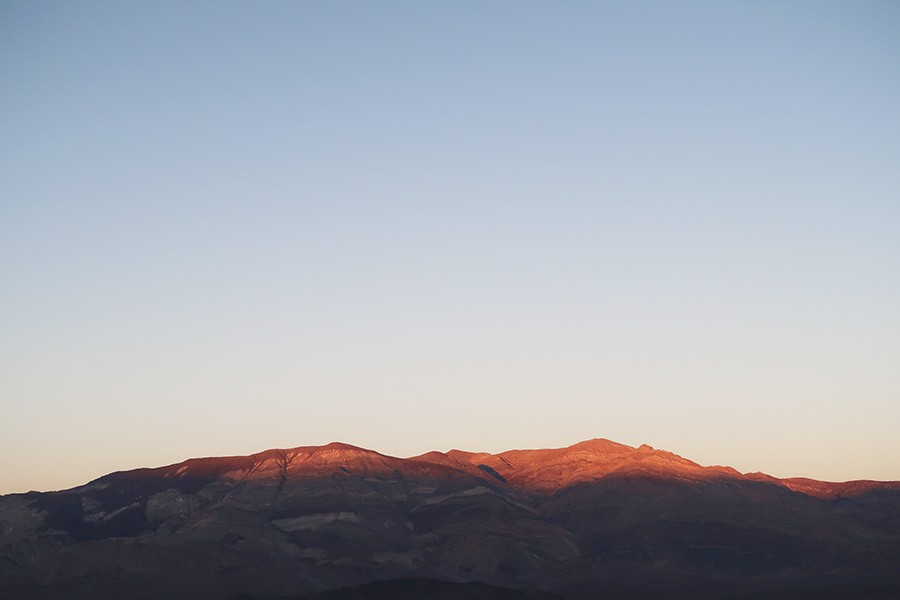 .
Jour 11 exploration de fond en comble de la Death Valley !
C'est parti pour l'exploration !
Une des premières choses que l'on verra en prenant la voiture, c'est des coyotes !
.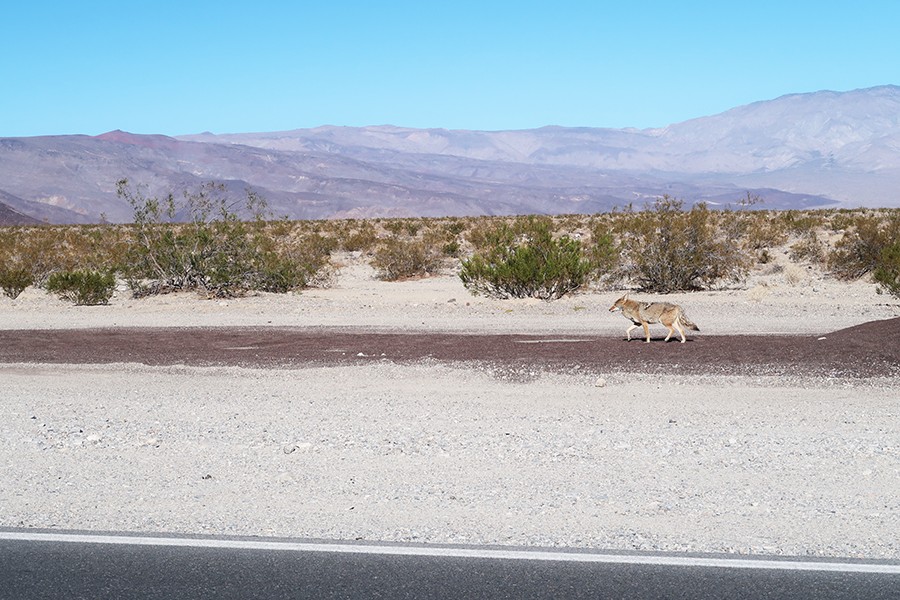 .
On commence par les dunes ou on y restera une petite heure à jouer. c'est grandiose et il fait chaud, ça fait du bien !
.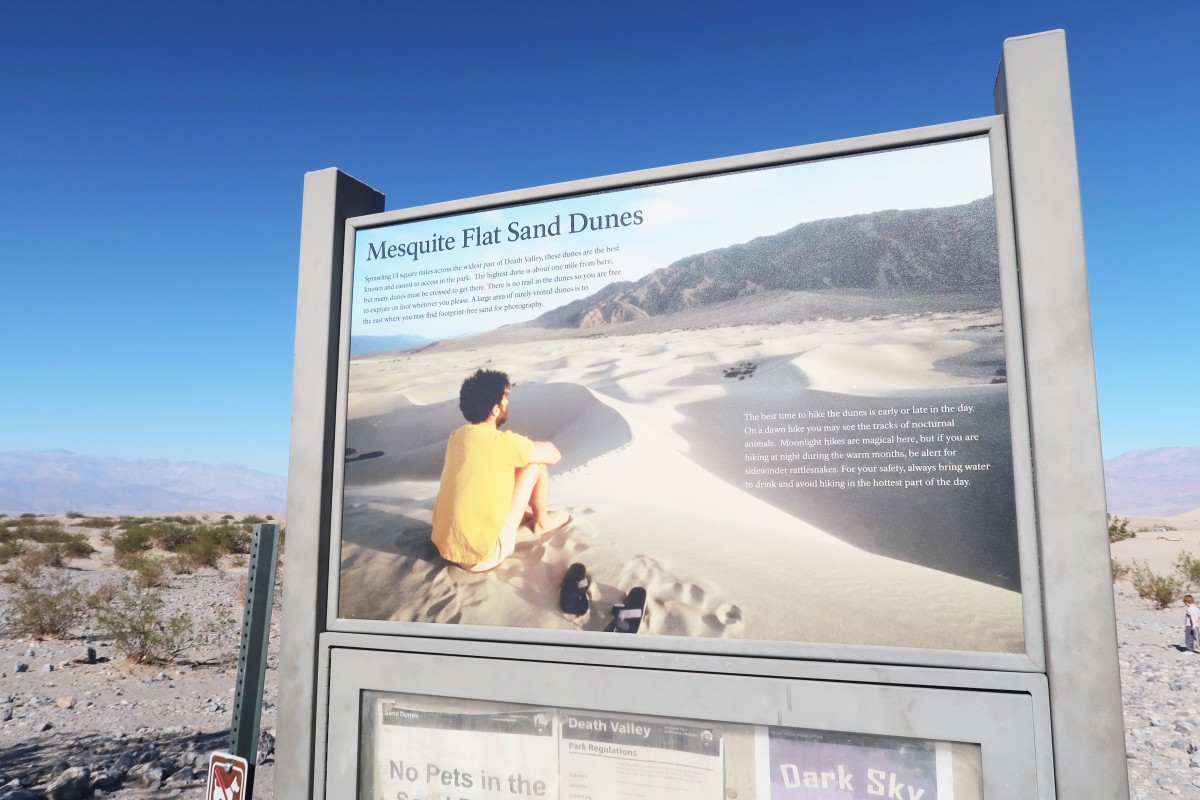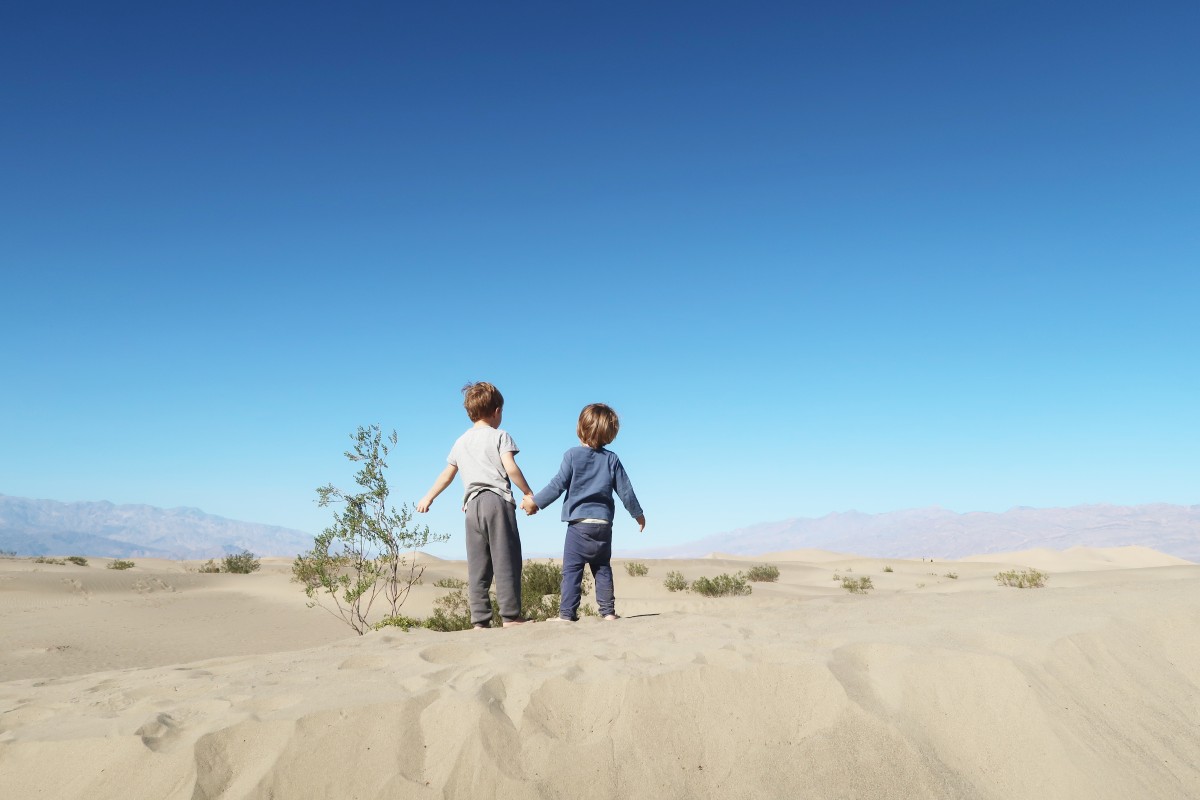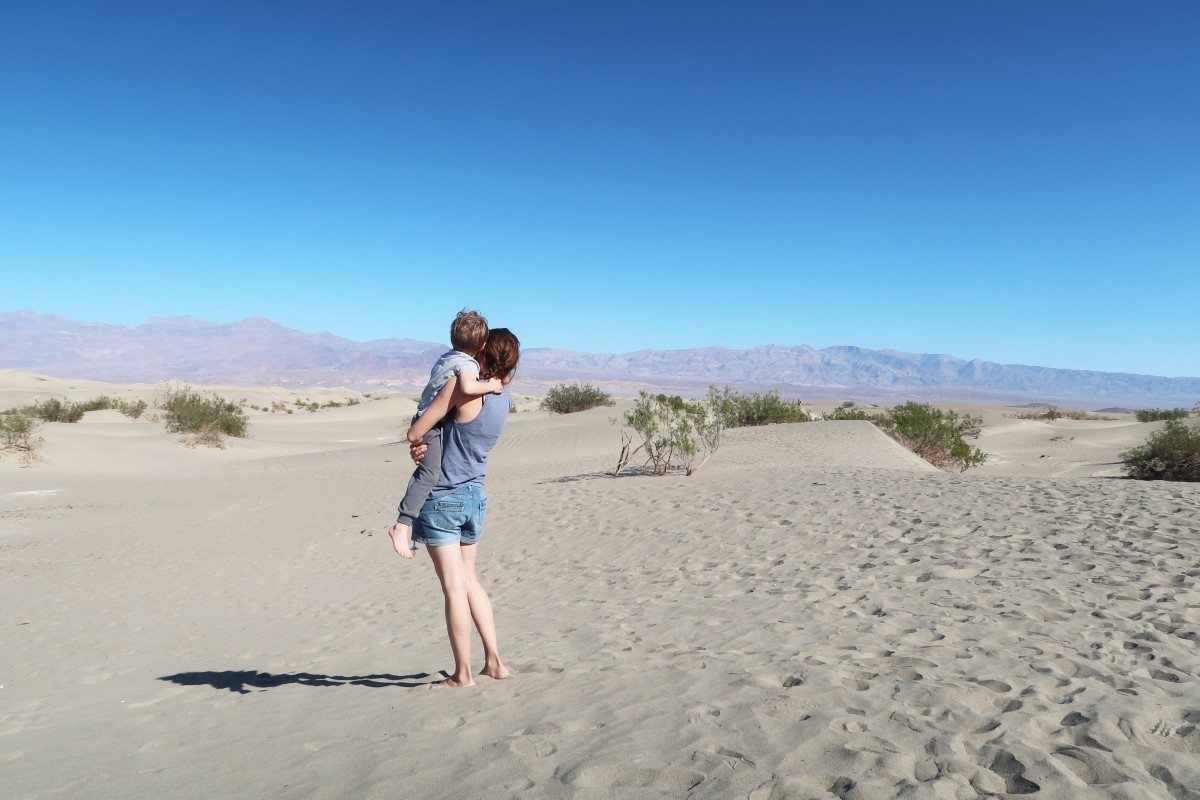 Cap vers Furnicle Circle pour savoir un peu le parcours de la journée. On est pas vraiment bien organisé mais on a quand même réussi à bien profiter entre tous ces décors grandioses.
.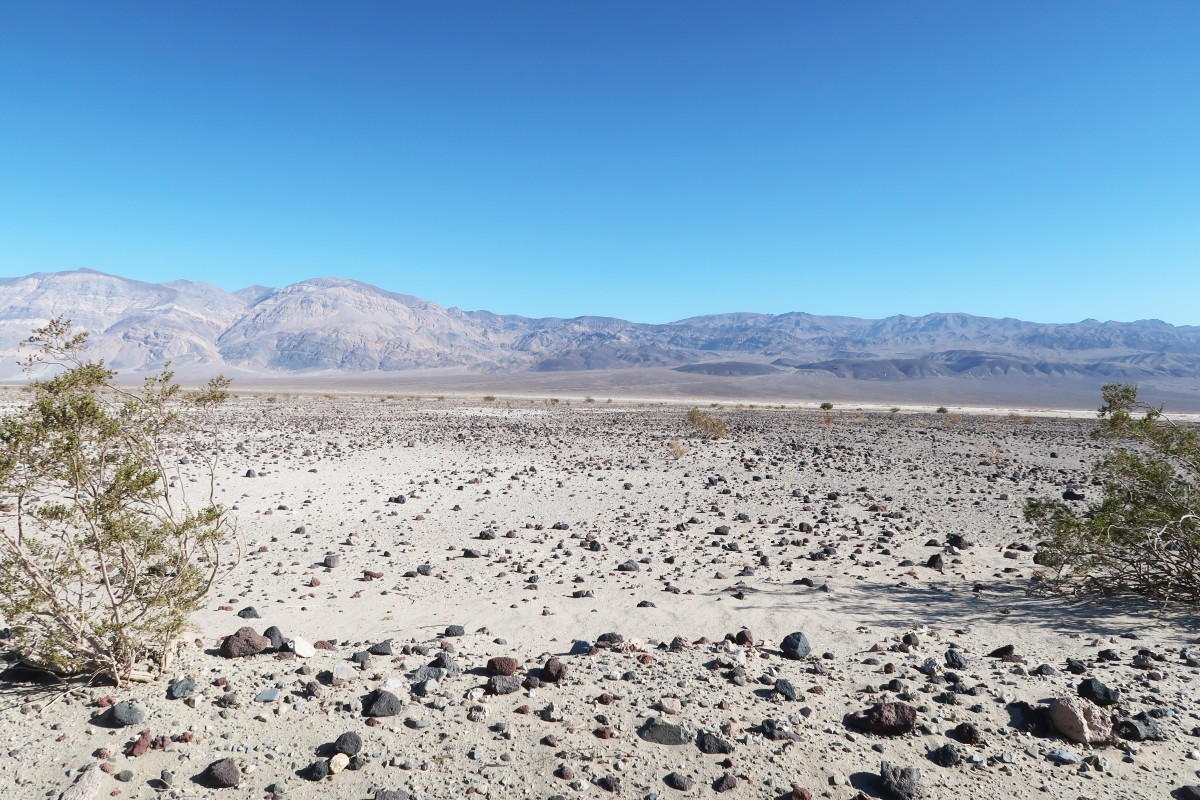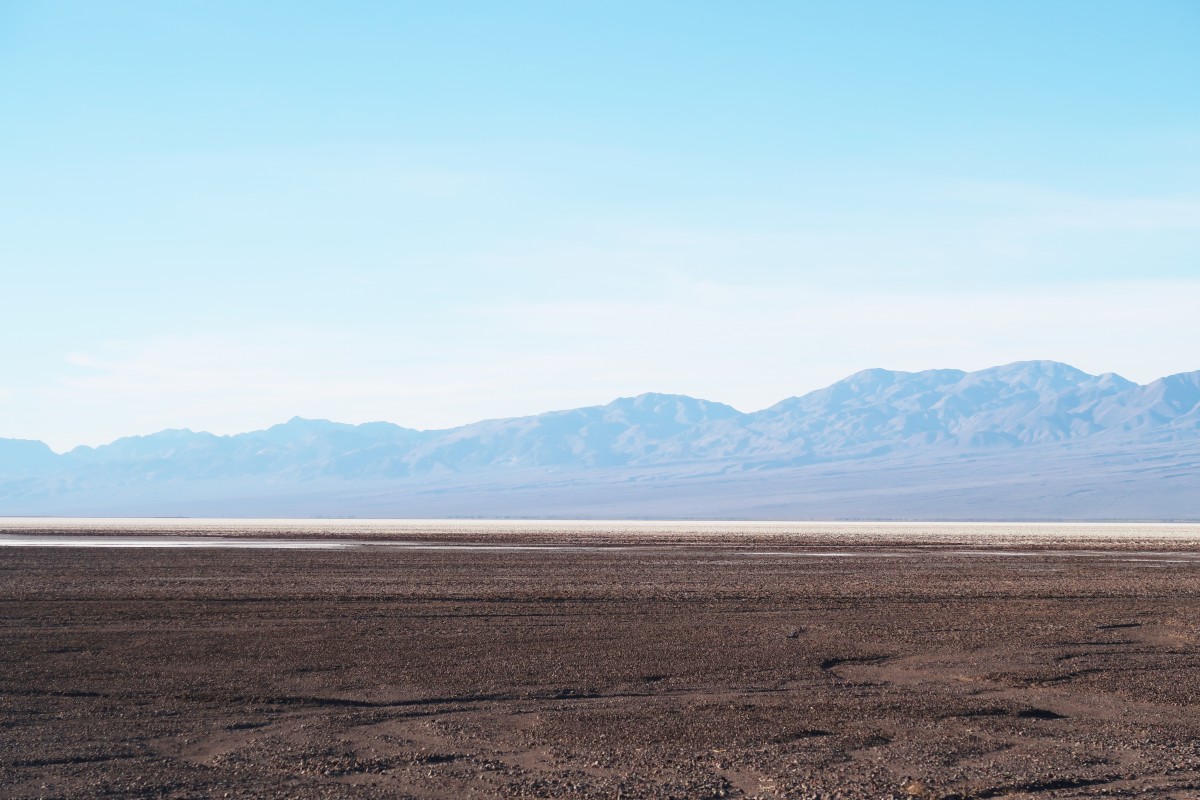 .
C'est un supermarché de paysage ! De la roche, des montagnes, des dunes, des plaines… Des couleurs … Bref, un vrai spectacle pour les yeux .
.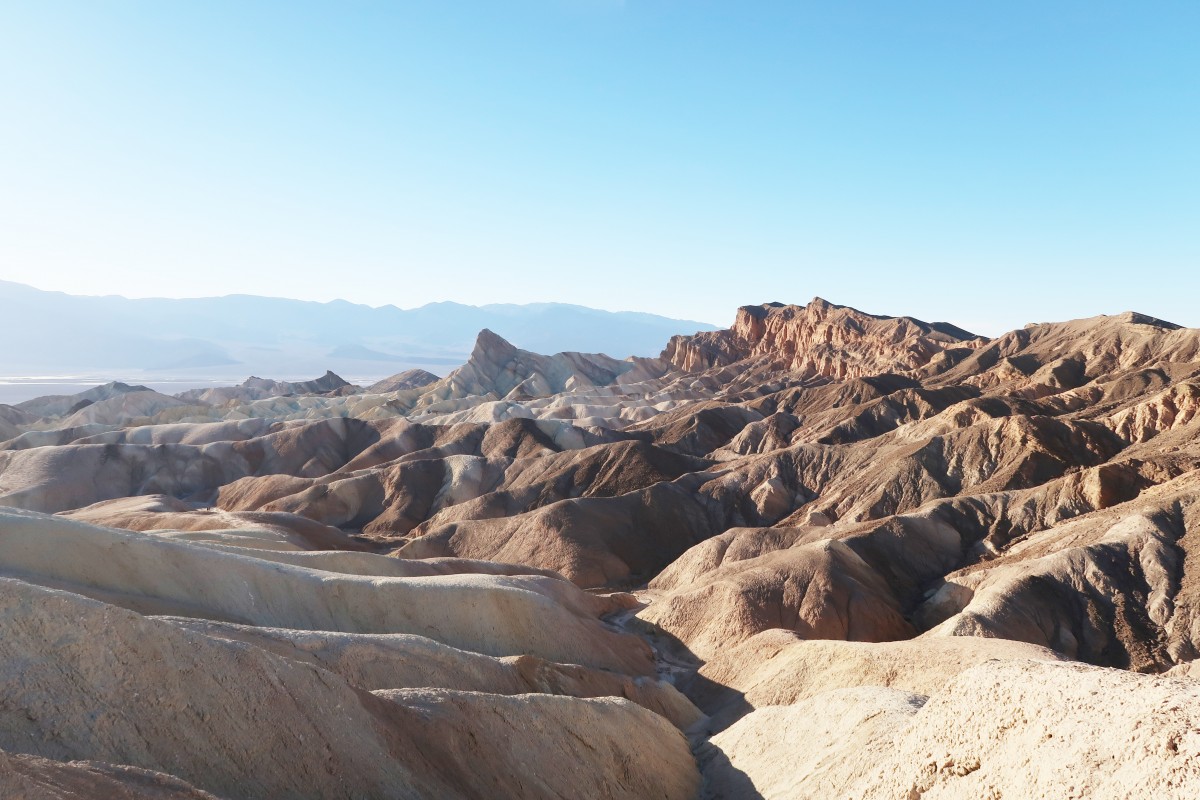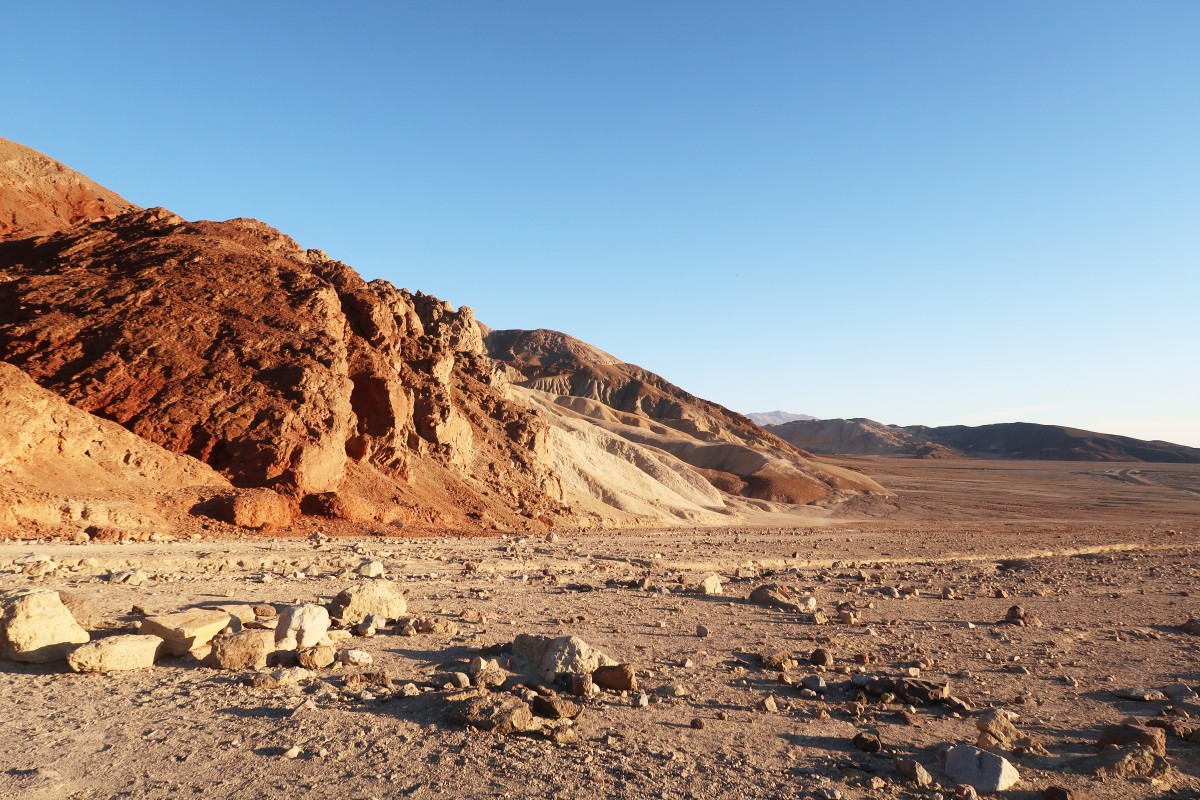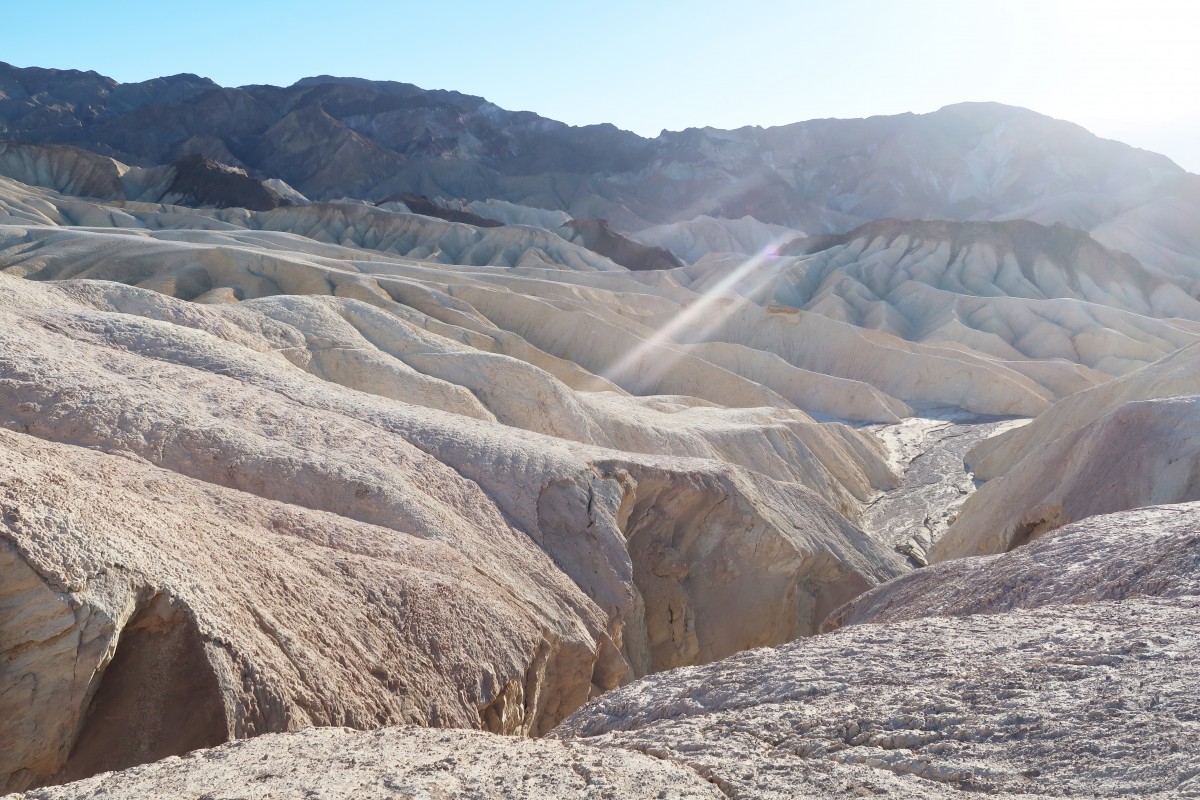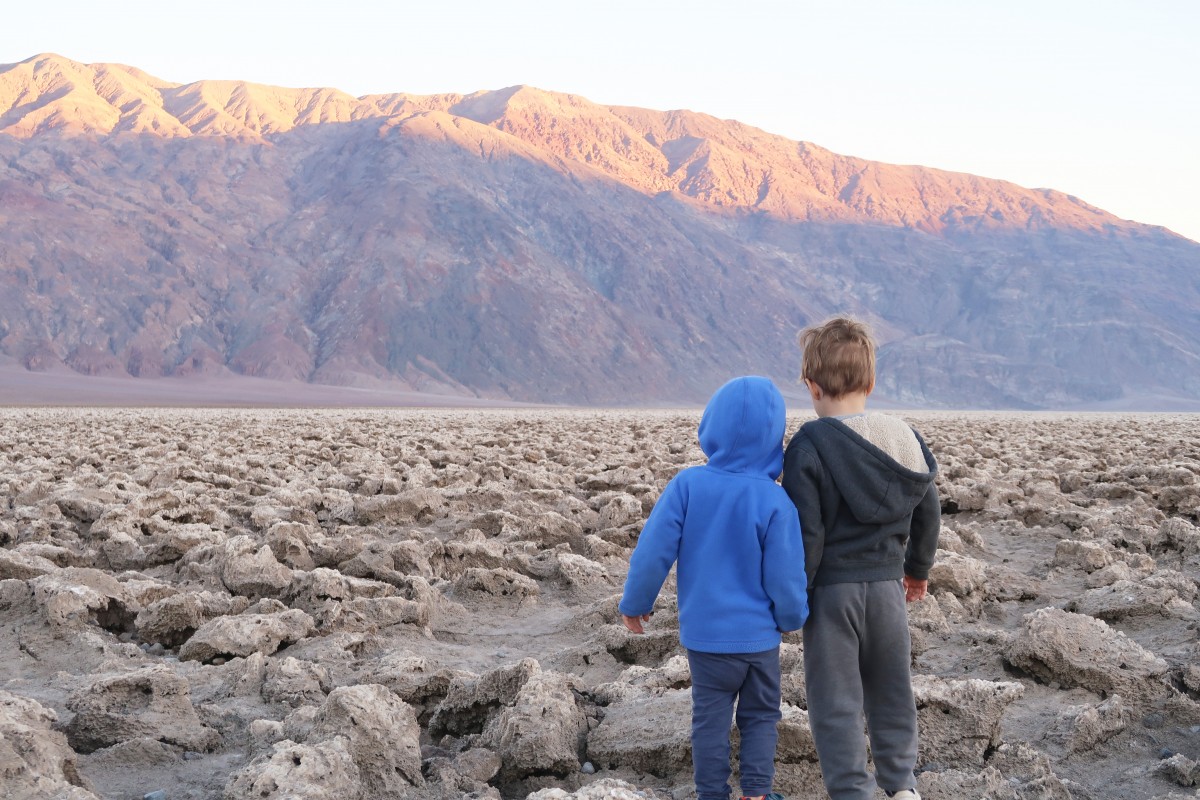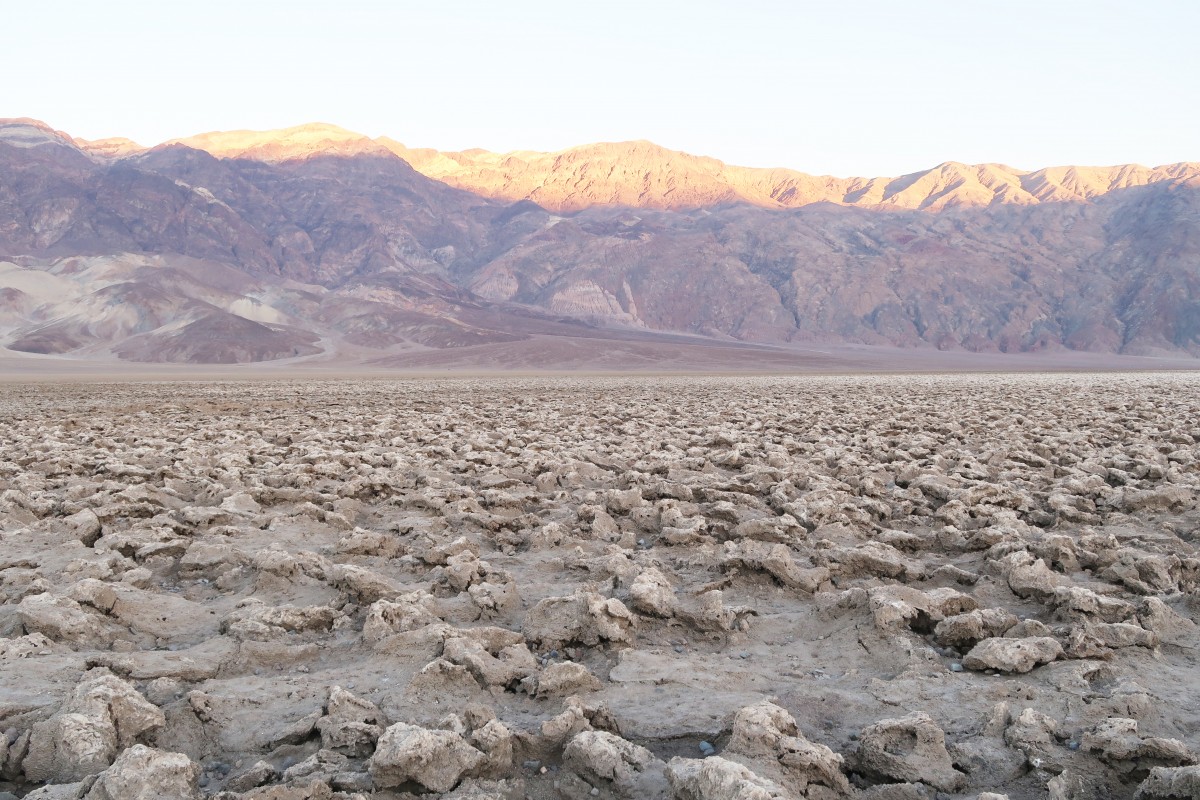 .
À la tombée de la nuit on se dirige vers the Borax Museum de qui a finalement été déplacé. On y voit des vielles locomotives, charrette ainsi qu'un saloon.
.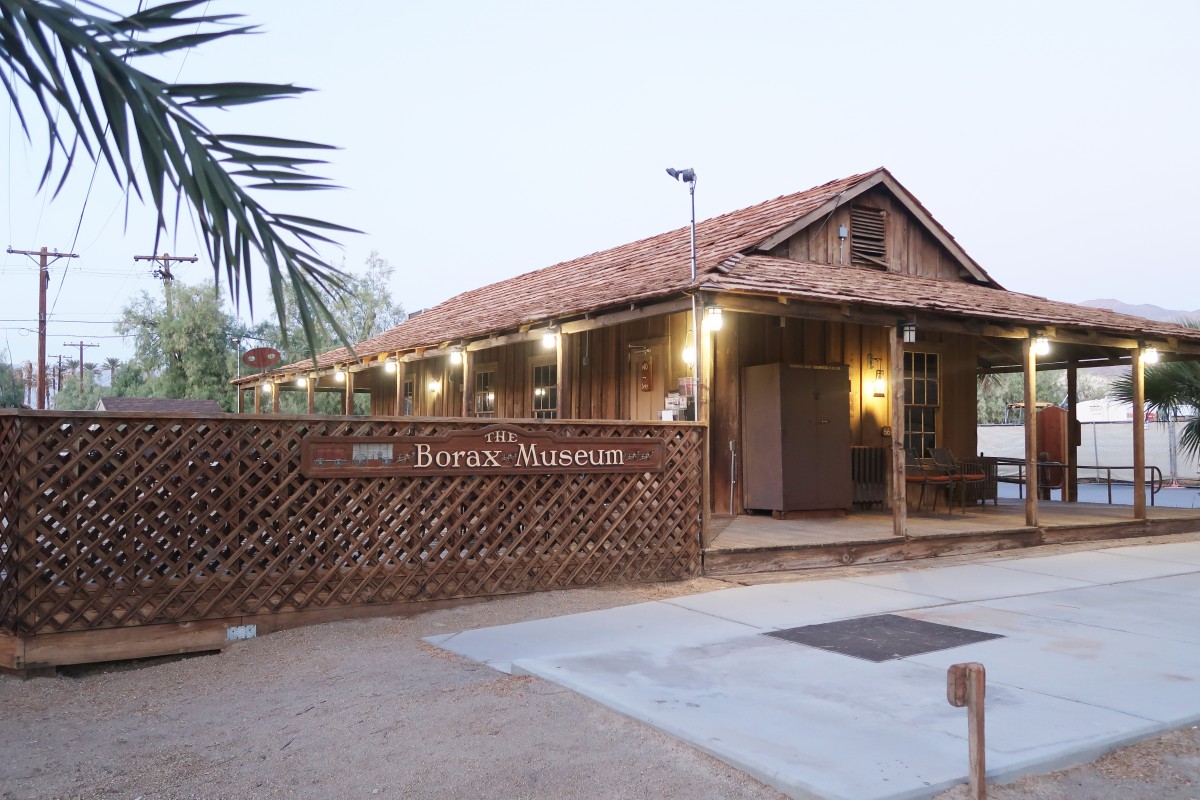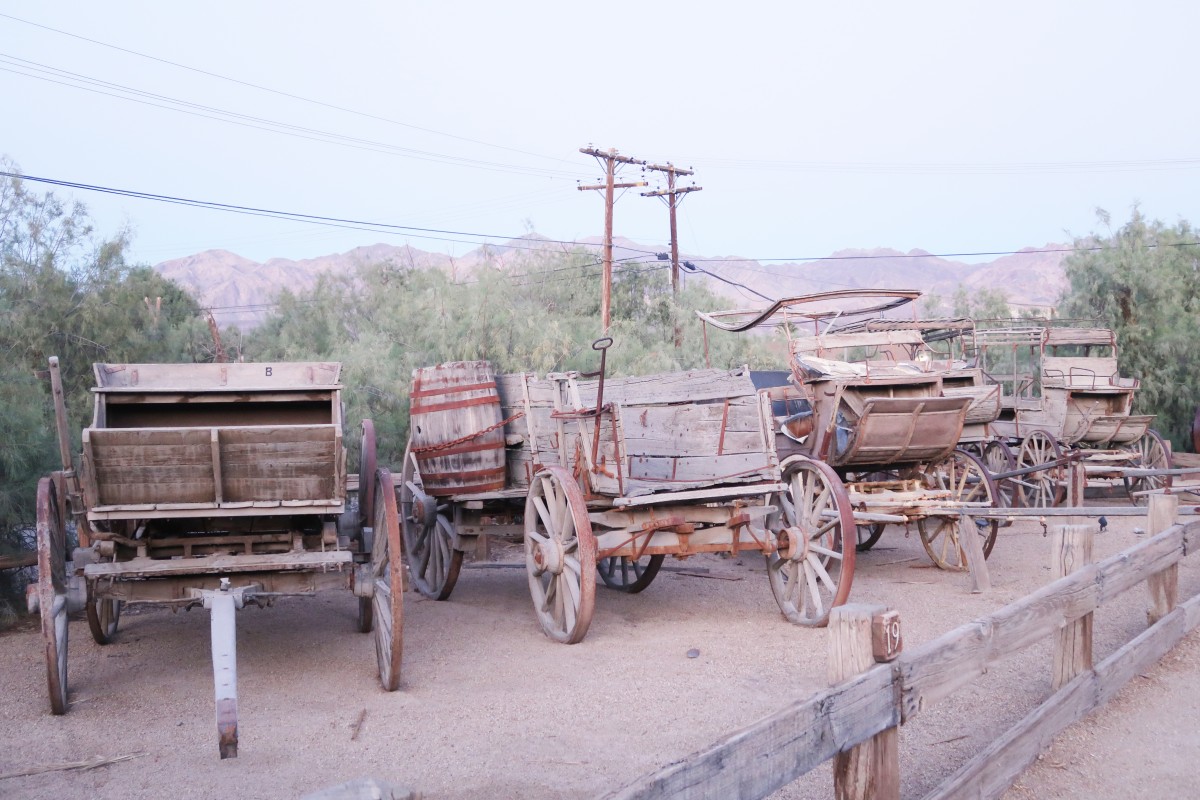 .
Et puis direction notre camping qu'on avait payé dans l'après midi. On avait pas fait attention qu'il fallait réserver l'emplacement avec la facture. Résultats plus une place quand on est arrivé ! Après 30 minutes à rouler autour on a finalement trouvé un emplacement pour y passer la nuit !
Jour 12 dernière matinée à la Death Valley
On fini la Death Valley avec un des lieux les plus impressionnants : Badwater !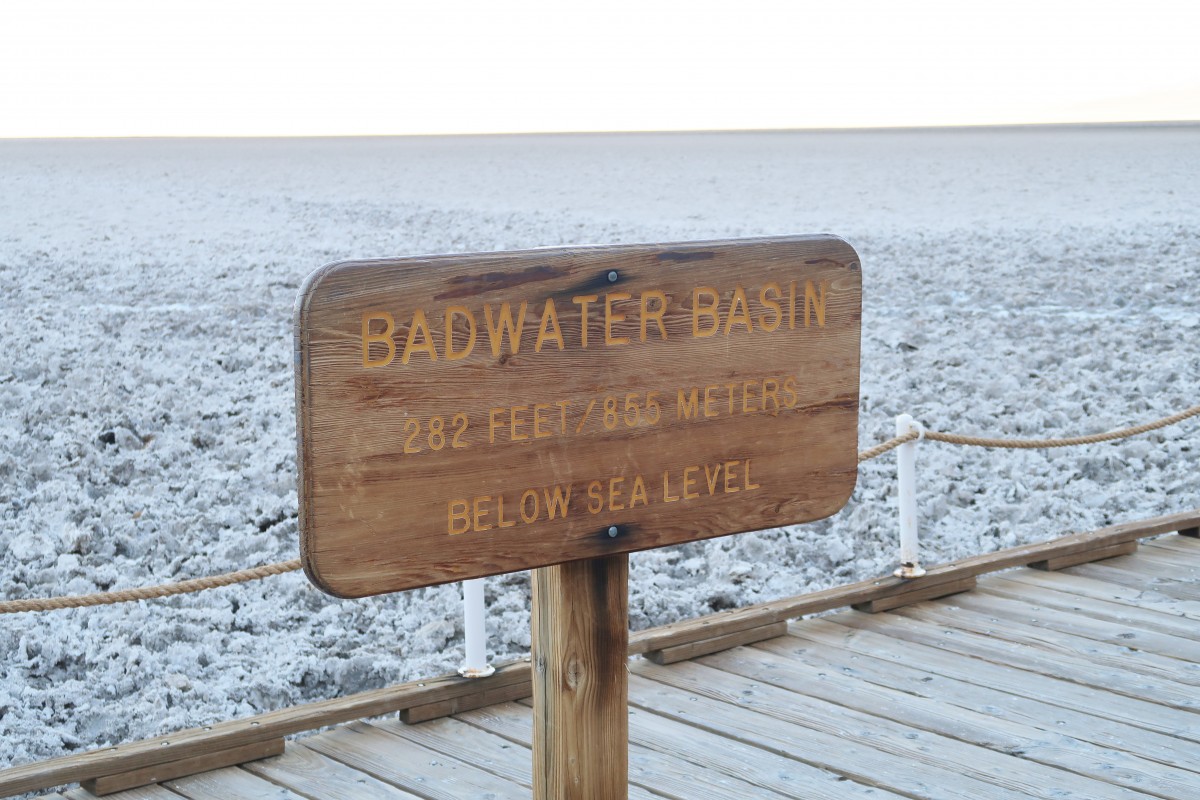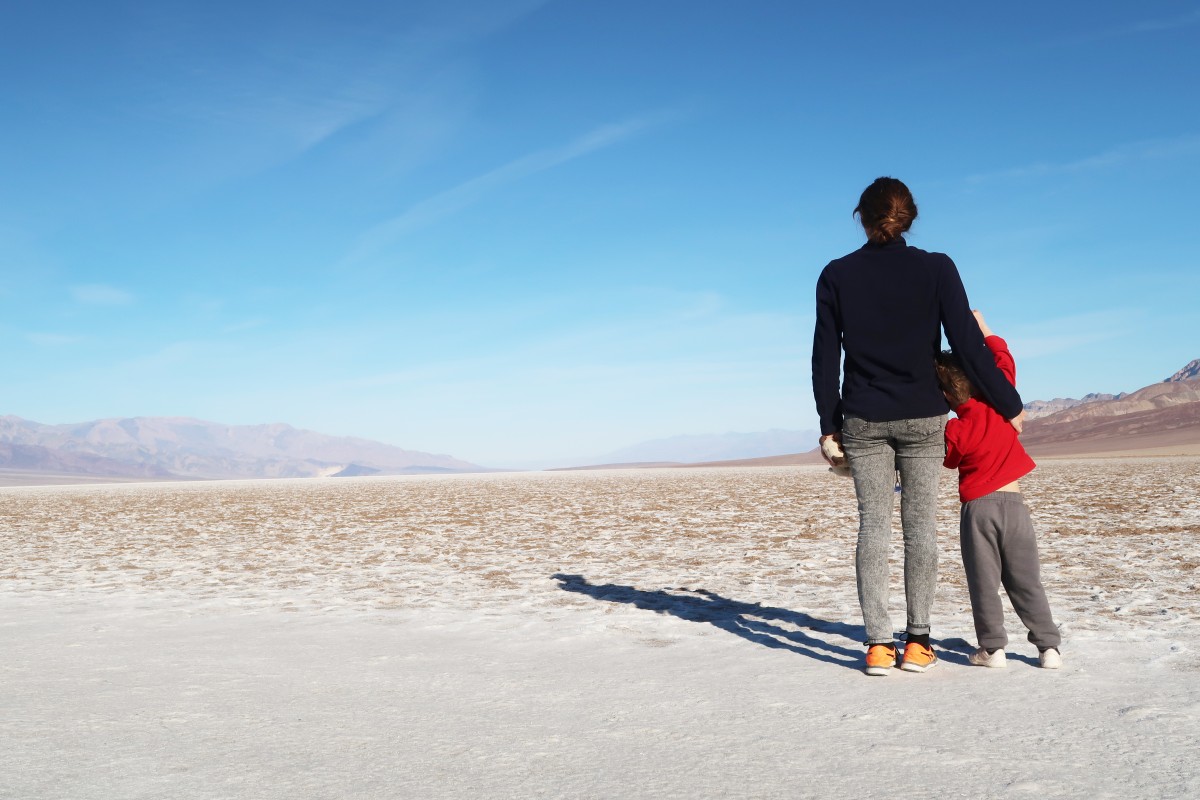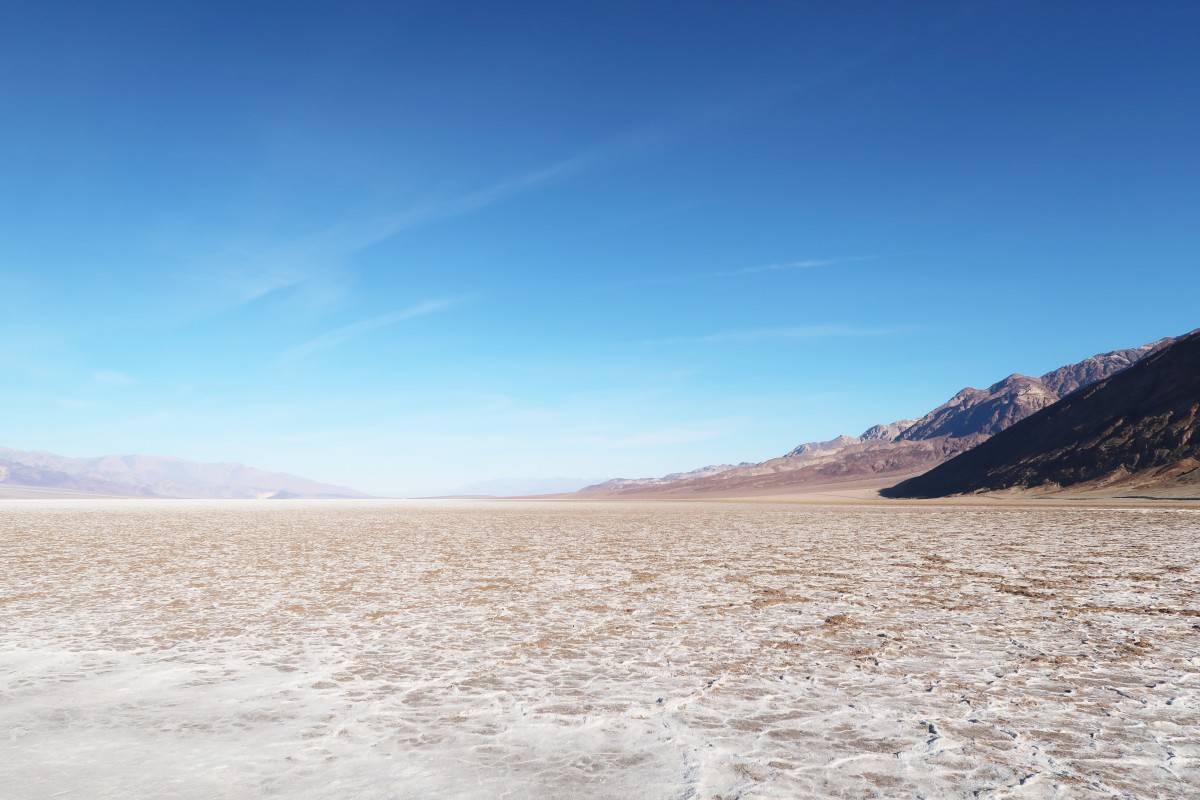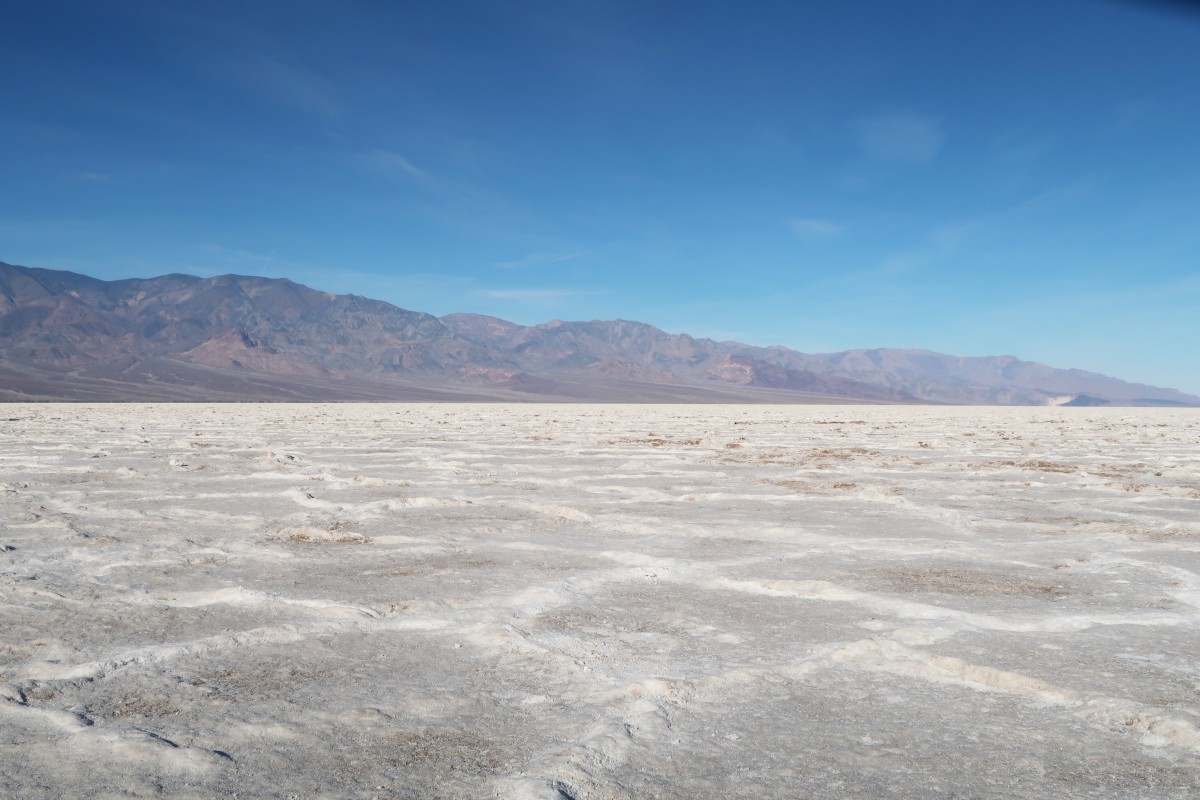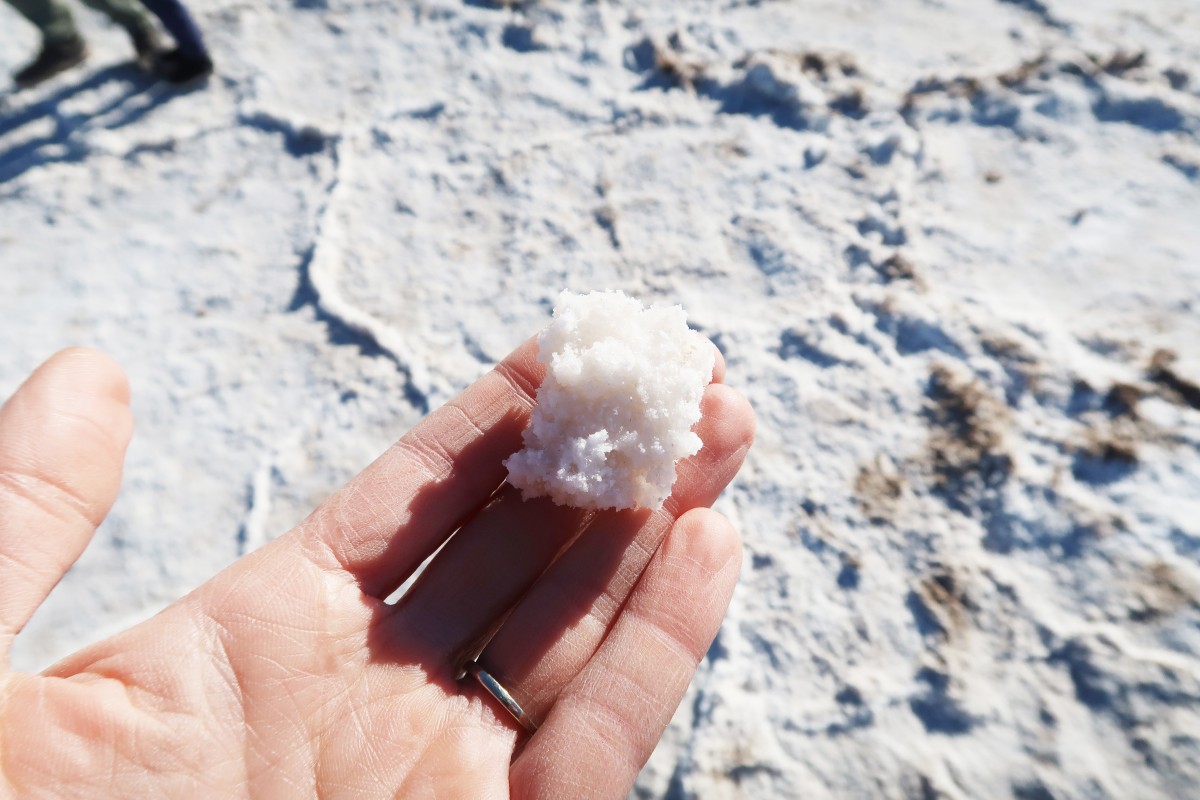 .
Sand dune, Zabriskie point, Furnace Creek, Artist Palette, Devil's golf course, Badwater… C'était tout simplement magique ! On l'a exploré comme on a pu avec les deux minus, on aurait aimé y rester davantage mais d'autres aventures nous attendaient ! La Death Valley c'est vraiment la grande surprise de ce voyage et sans doutes l'endroit que nous avons préféré. C'était tout simplement unique, géant et inattendu. Si vous êtes dans le coin, allez-y, vraiment ! Ça vaut le détour ! En été il y fait beaucoup trop chaud hélas. Vous pourrez y stopper mais sans doute pas vraiment en profiter. En novembre c'était parfait bien que les nuits et les matins étaient un peu frais.
.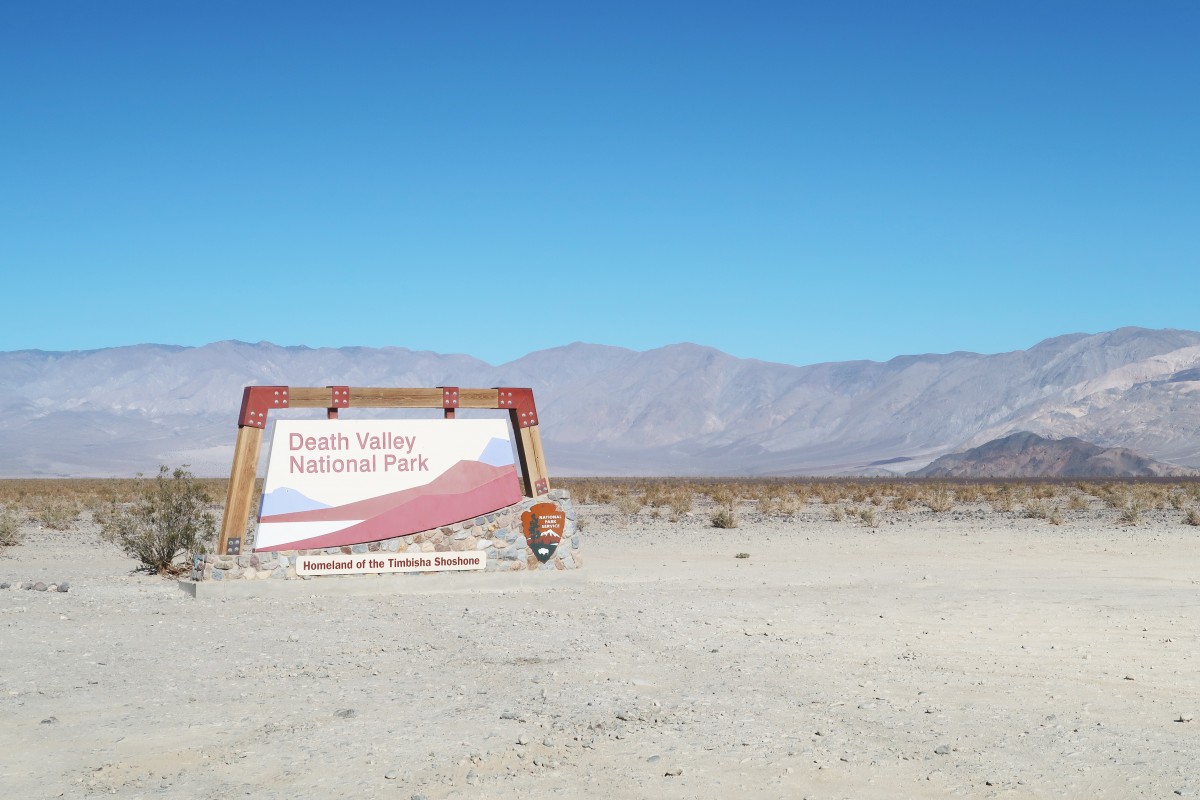 .
Maintenant direction Las Vegas et je vous raconte ça très vite !
Epingle cet article sur Pinterest !