Forcément, en 6 mois en Thaïlande, j'ai pu acheter quelques petites choses. Tout d'abord, il y a eu les cosmétiques quand les miennes ramenées de France venaient à manquer. J'ai trouvé cela plutôt compliqué de trouver du naturel en Thaïlande. J'ai parfois été bernée par les étiquettes prônant le naturel pour être ensuite notées 0 sur Yuka. Bref, j'ai fait comme j'ai pu ! J'ai aussi acheté quelques vêtements par-ci par là. Vous le savez peut-être si vous me suivez depuis longtemps, je favorise l'achat des vêtements seconde main. Même si j'ai pu le faire aussi ici, j'ai tout de même acheté certaines pièces neuves. Voici donc mes achats en Thaïlande. Sans oublier quelques bijoux !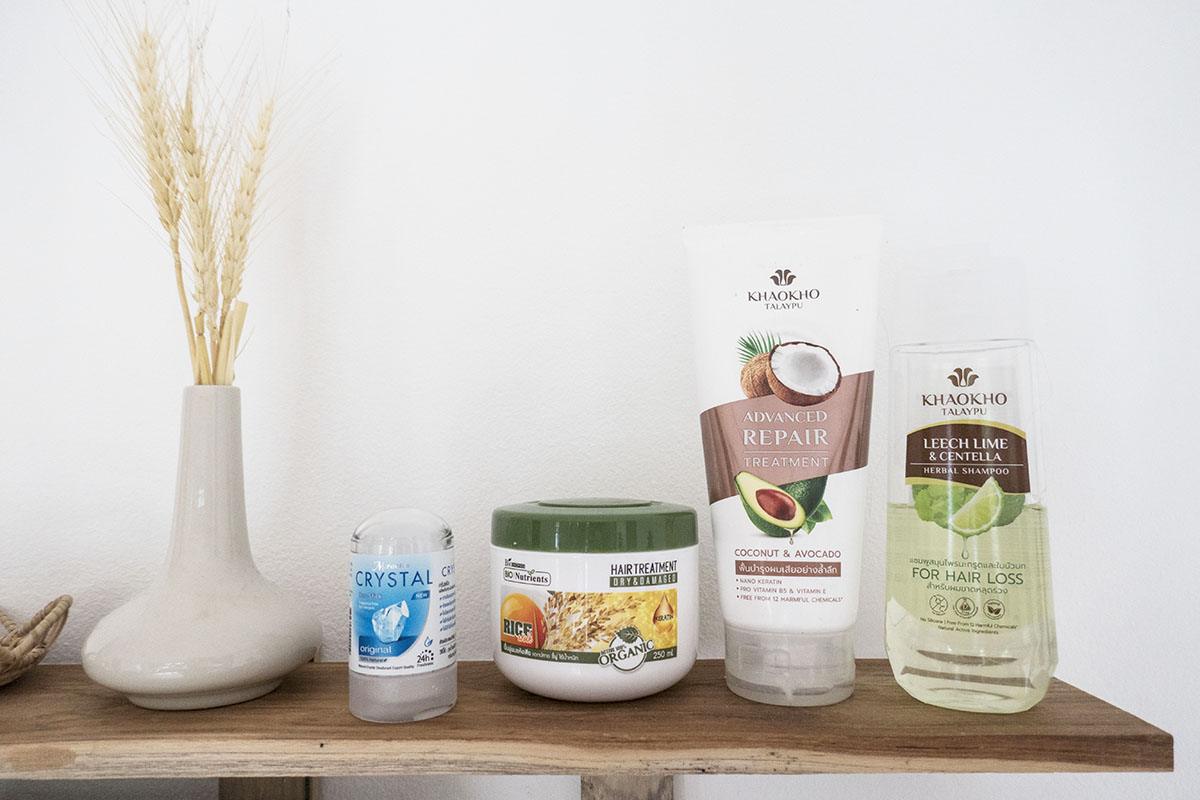 ---
Mes achats de vêtements en Thaïlande
Si vous venez prochainement, vous verrez que la mode est au tie and dye. Ce à quoi je n'ai pas pu résister ! Je ne pense pas que c'est le genre de mode pour laquelle j'aurais pu craquer en Europe, mais voilà, il y en avait tellement partout que j'ai cédé !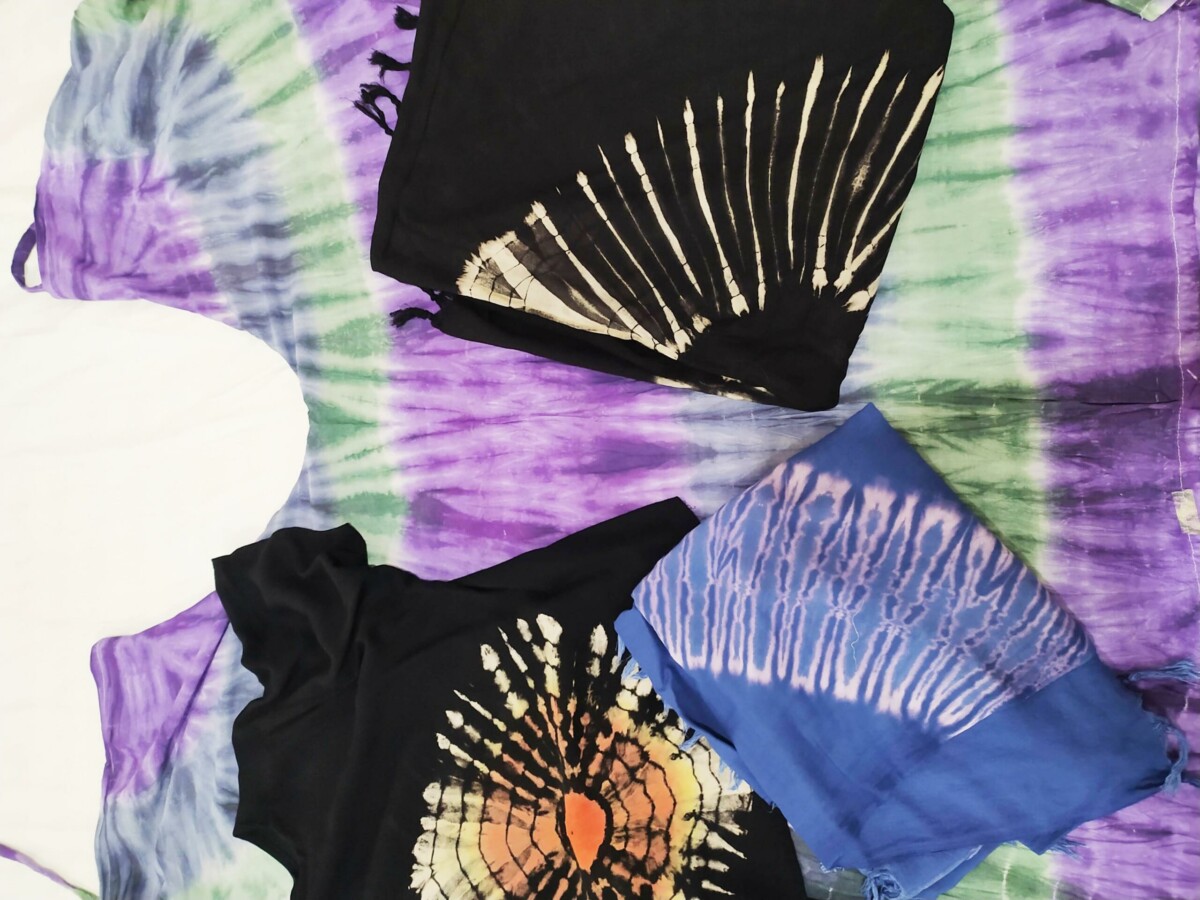 J'ai acheté un drôle de pantalon qui s'enfile bizarrement, mais qui était, je pense à la mode, il y a des dizaines d'années. Retrouvez mon petit réel sur mon compte Instagram, et la manière dont il s'enfile et se porte.
J'ai aussi pris un T-shirt noir crop matière paréo (comme le pantalon) effet tie and diy. Je l'aime beaucoup même si je n'ai pas vraiment eu l'occasion de le porter.
(les photos ne rendent pas justice surtout que les vêtements sont froissés !)
Ici, on voit beaucoup de shorts et pantalons en coton unis de toutes les couleurs. J'ai donc pris un short de couleur rouille ainsi qu'un pantalon large noir et un autre blanc. Vous en verrez aussi vraiment beaucoup ici.
En seconde main, j'ai aussi trouvé une combi short de la marque Hollister pour 100 baths, elle est superbe !
Et pour finir, un pantalon fin et large motifs fleurs. On en voit aussi beaucoup ici de différents motifs. Ils sont vraiment confortables et parfaits pour le printemps et soirées d'été.
---
Mes achats accessoires
J'ai aussi acheté deux paréos tie and dye. Un violet que j'utilise ici ainsi qu'un noir que je garde pour mettre en foulard quand je serai de retour en Espagne. Il y a énormément de paréos ici, tous plus jolis les uns que les autres.
J'ai aussi acheté quelques bijoux pour trois fois rien, souvent fabriqué juste devant moi. Les bracelets sont en général de mauvaises qualités et se cassent vite. Et pour finir, une petite pochette que j'utilise pour mettre mes bijoux.
---
Mes achats cosmétiques en Thaïlande
J'ai rapidement dû acheter du shampoing. J'ai jeté mon dévolu sur la marque Khaokho qui ne me semble pas trop mal, j'ai aussi le soin intensif qui doit être un après-shampoing que j'utilise aussi comme soin sans rinçage. Il est ultra efficace et laisse vraiment les cheveux doux.
En masque, j'ai pris celui-ci qui avait tout pour plaire. Pas pour Yuka en tout cas. Néanmoins, je dois avouer qu'il est vraiment très efficace et sent bon le riz. Je le garde, ça m'embête de le jeter, mais je l'utiliserai avec parcimonie.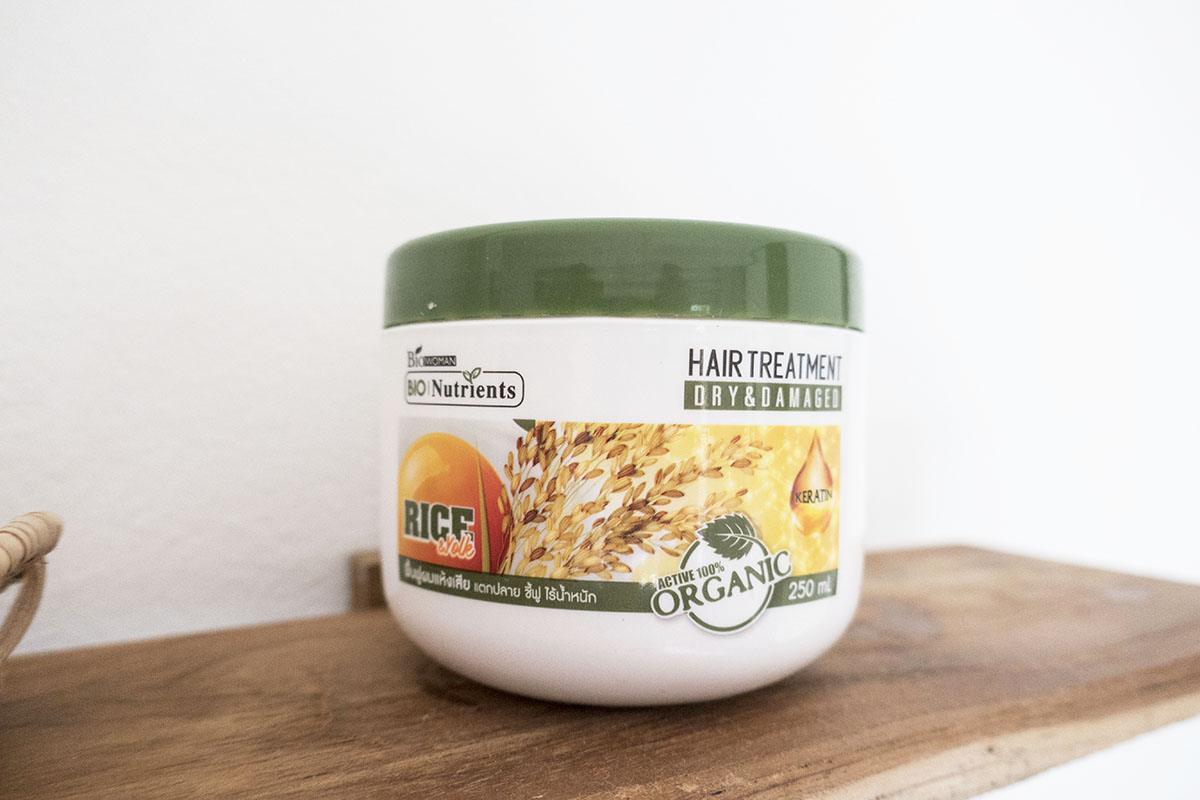 J'ai acheté de l'aloe étant donné que j'avais fini mon pot. Il est noté 100 % aloe vera, mais quand on regarde la composition ça n'est pas vraiment ça ! Il reste néanmoins agréable à utiliser.
Chez Watsons, j'ai acheté une crème et son sérum au sucre fermenté et au thé blanc. C'est soi-disant composé avec quelques ingrédients bio). C'est délicat et agréable à utiliser. Je vous la conseille si vous êtes en rade en Thaïlande. Attention, je ne l'ai vu que chez Watson. (Naturals de chez Watsons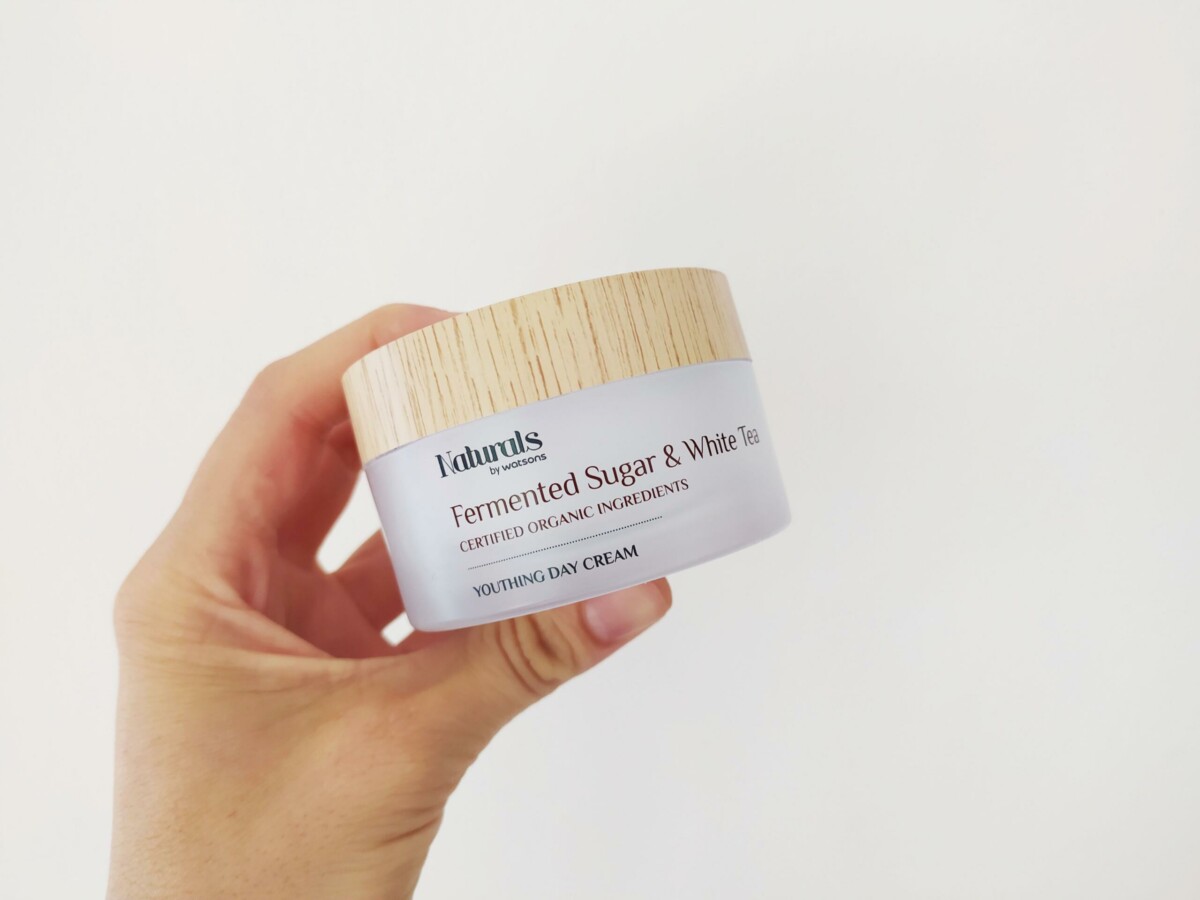 En déo, j'ai pris une pierre d'alun. Je sais qu'elles sont très controversées, mais elles sont tellement efficaces… J'ai tout de même fait d'autres recherches et décidé de ne plus l'utiliser. On ne sait jamais.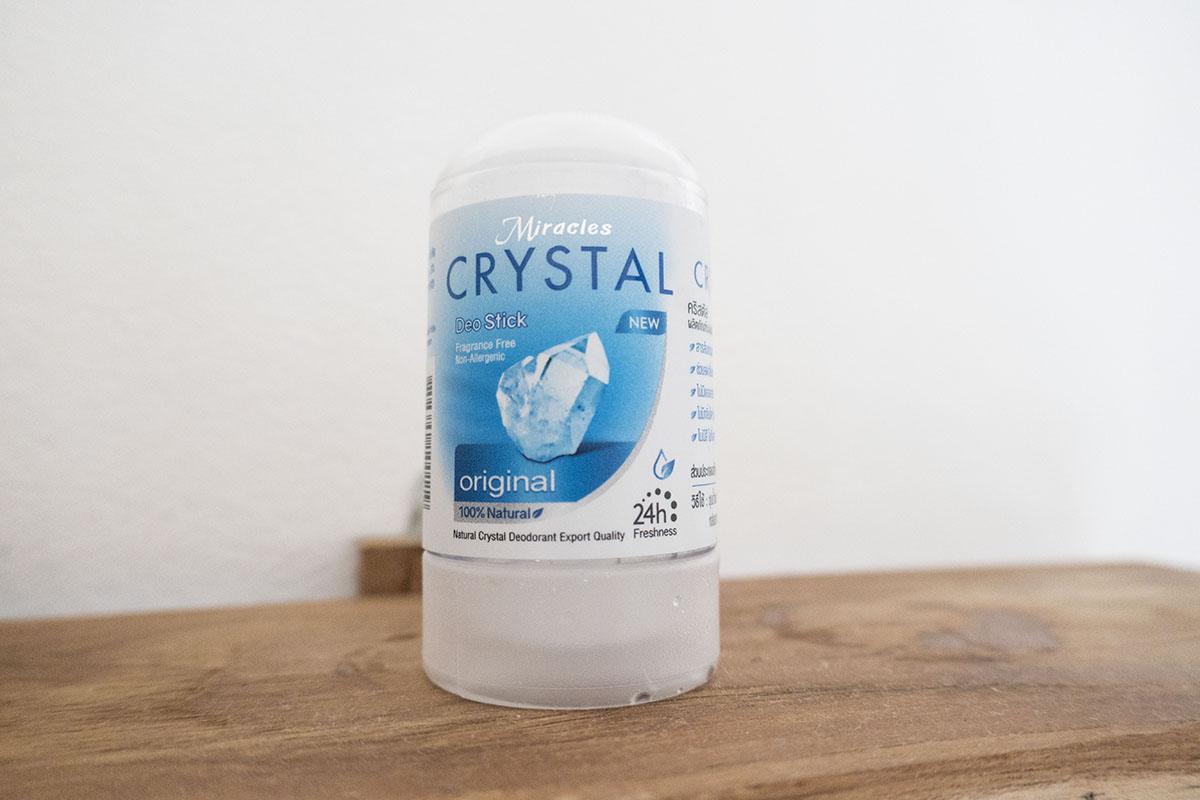 ---
Les achats médicaments et compléments
Une des premières choses que nous avons achetées ici est le baume du tigre. En effet, elle coûte trois fois rien et vous en avez de différentes compositions. J'aime beaucoup le rouge qui sent un peu le coca ! Elles ont toutes leurs spécificités musculaires, etc. On l'utilise aussi pour calmer une piqûre d'insecte. 
J'ai aussi pris un petit inhalateur à base de plante qui se respire quand on a le nez bouché.
Et pour finir, une toute petite fiole qui se trimballe partout et qui contient un mélange de menthe et cannelle. C'est très pratique et efficace pour calmer une piqûre de moustique. D'ailleurs, pour ne pas se faire piquer, tout le monde achète ce flacon rose transparent. Les moustiques sont très présents ici !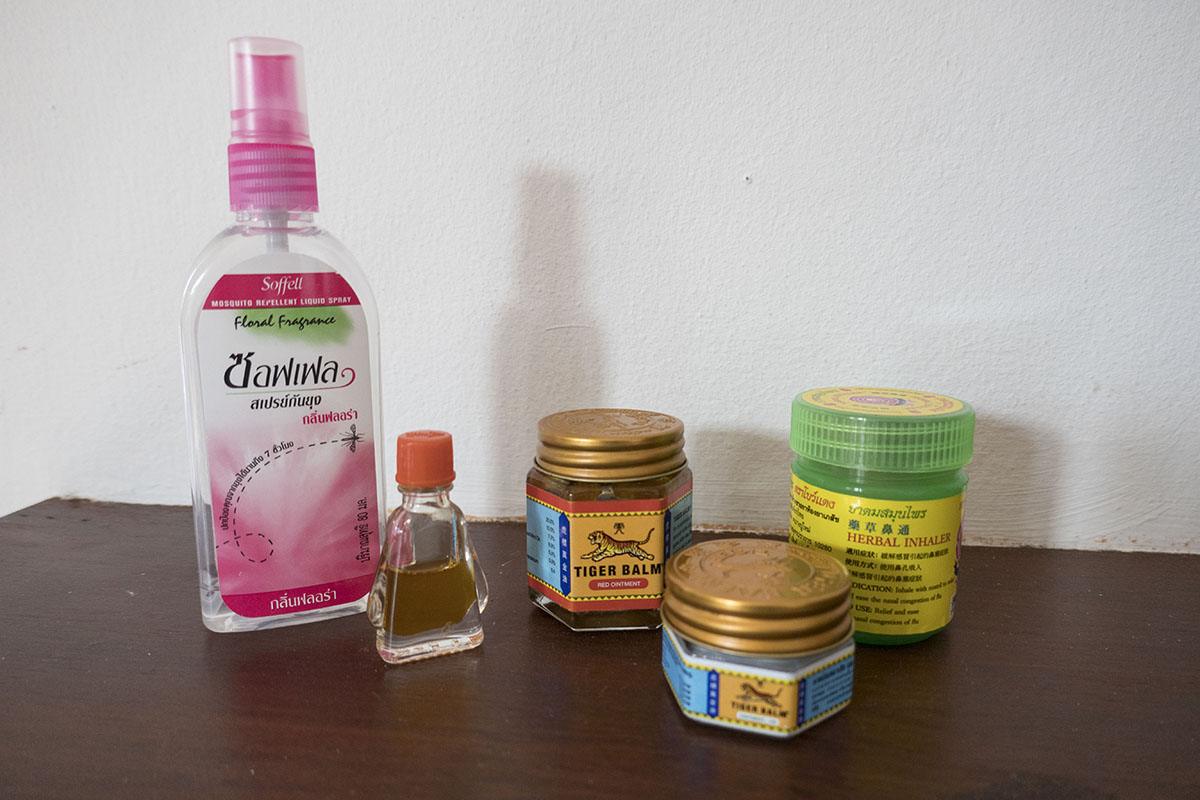 En arrivant ici, j'ai rapidement remarqué le rayon collagène qui propose une variété assez impressionnante de marques et de compositions. Ça m'a intrigué et en partageant ça sur insta j'ai eu beaucoup de retours sur le fait que les dosages en collagène était plus élevés qu'en Europe et que j'avais de la chance de pouvoir m'en procurer à ce tarif. 
Je suis passée à autre chose, mais après quelques recherches, j'ai lu les bienfaits du collagène sur la peau et les articulations. En effet, avec l'âge, nous en produisons beaucoup moins. Cela donne de l'élasticité à la peau et permet de diminuer les douleurs articulaires, réduire les rides, favoriser la perte de poids et d'optimiser les performances sportives. J'ai fait ma petite réserve avant de voir le résultat et d'investir sur une marque en France.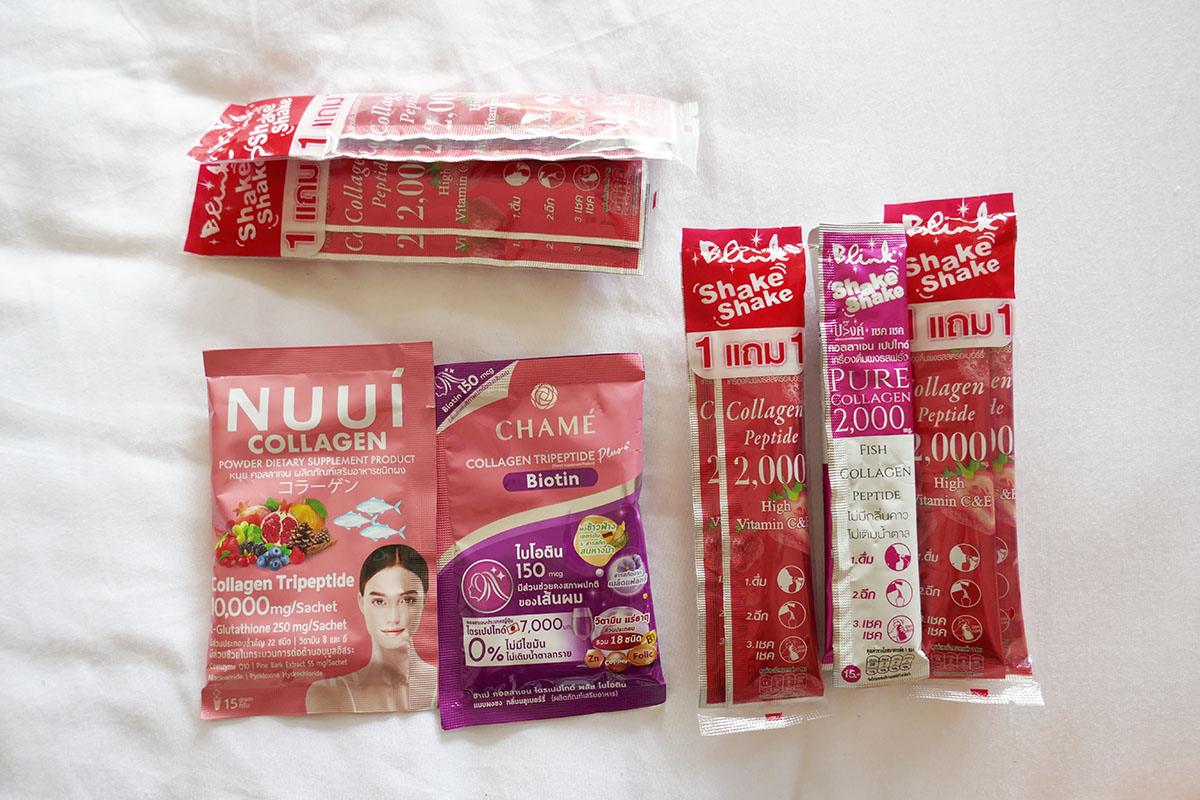 ---
Quelles sont les choses pour lesquelles vous pourriez facilement craquer ?