Voici quelques petites choses qui me font de l'œil depuis un petit moment et qui pourraient aussi vous donner des idées pour la fête des mères. Et oui, cette fête annuelle arrive tout bientôt, le 29 exactement. Alors même si nous ne sommes pas obligés d'offrir un cadeau, la petite attention fait toujours plaisir. Dans cet article, j'ai sélectionné des cosmétiques, bougies ainsi que bijoux !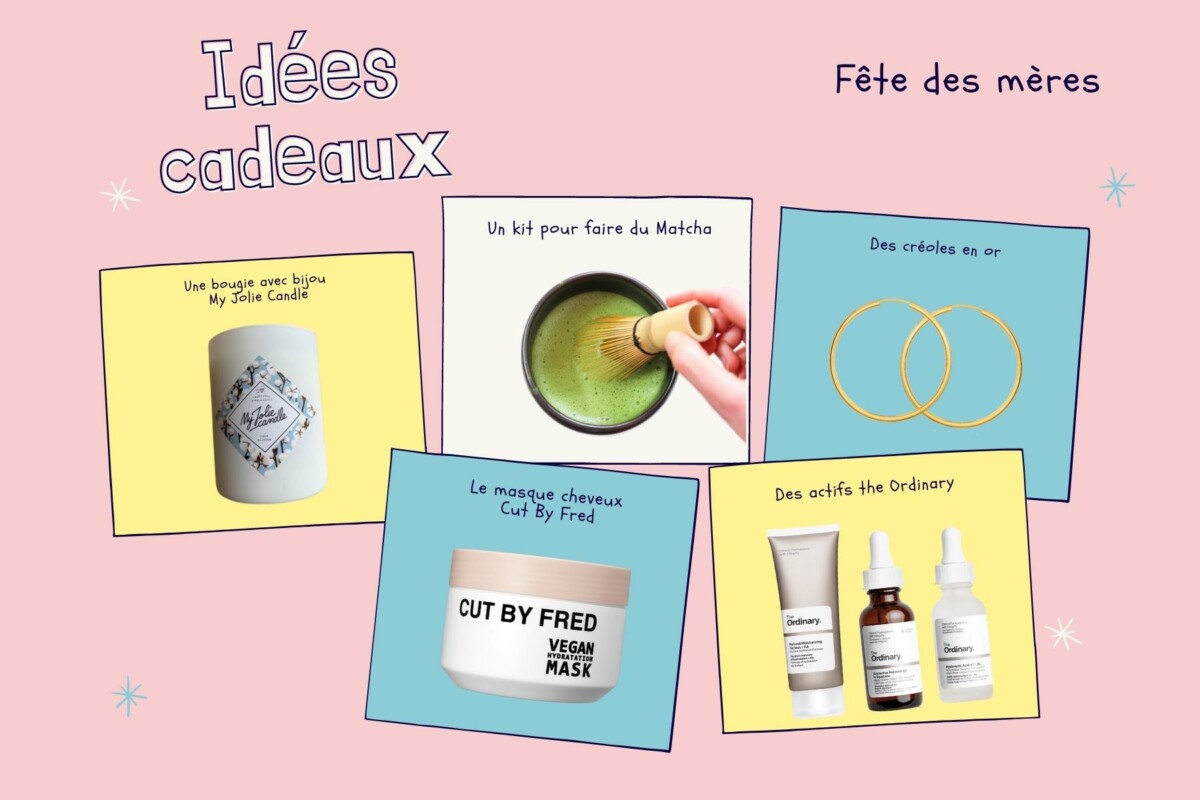 Le fameux Masque cheveux de Cut By Fred
J'en entends parler depuis des années. Il est réputé pour son efficacité, mais aussi sa délicieuse odeur d'amande douce. Composé d'ingrédients naturels, ce masque gros format promet une efficacité incroyable en plus du plaisir de l'utiliser.
---
Des cosmétiques The Ordinary
Car ma peau a beaucoup subi avec le soleil, l'humidité, la mer et l'eau de la piscine, elle a besoin d'être bichonnée plus que jamais ! J'aime beaucoup les petites fioles que la marque The Ordinary propose, c'est efficace et bon marché. L'acide hyaluronique, le rétinol, le tonique à l'acide Glycolic 7% et le sérum Factors + HA sont de bons produits que l'on peut offrir comme kit de soin pour une femme qui aime prendre soin d'elle !
---
Un kit Matcha
J'ai toujours adoré le Matcha, mais encore plus depuis que je suis en Thaïlande. Ici, on peut en trouver très facilement, notamment dans les 7-Eleven. Je le préfère au café ou encore au thé. Le goût est particulier, mais mérite d'être testé ! J'adore l'idée d'offrir un petit coffret composé du fameux Matcha et de son fouet. Sa préparation est un peu différente qu'un simple thé. Le matcha, c'est tout simplement du thé vert broyé en poudre. Pour le préparer, il faut fouetter une petite quantité de poudre avec un petit ustensile en bois appelé Chasen et un peu d'eau. Une fois que le mélange est homogène, on rajoute de l'eau chaude ou le lait de son choix.
---
Une bougie My Jolie Candle édition le pouvoir des pierres
Vous avez certainement déjà entendu parler du principe My Jolie Candle ? Ces belles bougies qui contiennent un bijou. Pour cette fête des mères, j'avais envie de vous parler de celui sur le thème le pouvoir des pierres. La bougie est parfumée à la fleur de thé et le bijou est à choisir entre un bracelet et un collier garni, or ou argent orné d'une pierre précieuse. Pour les pierres, vous avez le choix entre l'Amazonite, la Lapis Lazuli, la Malachite, le Nacre et l'Onyx noire.
Rendez-vous sur la boutique en ligne My Jolie Candle vous voir cette jolie édition et toutes les autres.
Avec mon code WORLD20 vous avez 20% de réduction sur le site !
---
Des bijoux et notamment de jolies créoles en or
Simple et joli, j'adore l'idée des créoles et notamment en or qui feront leur petit effet avec le bronzage de l'été. Le bijou, c'est toujours le petit cadeau qui fait plaisir, dans le doute, mieux vaut viser sur un classique qui se porte facilement et qui pourra se porter en complément de bijoux plus voyants !
---
Faites-vous un cadeau à votre maman ?