Avant de partir pour la toute première fois en vacances avec les enfants, je me suis demandée ce que je pourrais bien prendre pour me faciliter la vie une fois sur place et surtout pour limiter au mieux le poids de la valise. Avant eux c'était simple. Je fourrais à la va vite quelques tenues confortables et adaptées et le tour était joué ! Maintenant c'est différent, il faut penser malin, et voici donc des petites choses de puériculture que j'emporte ou emportais pour partir en vacances.
.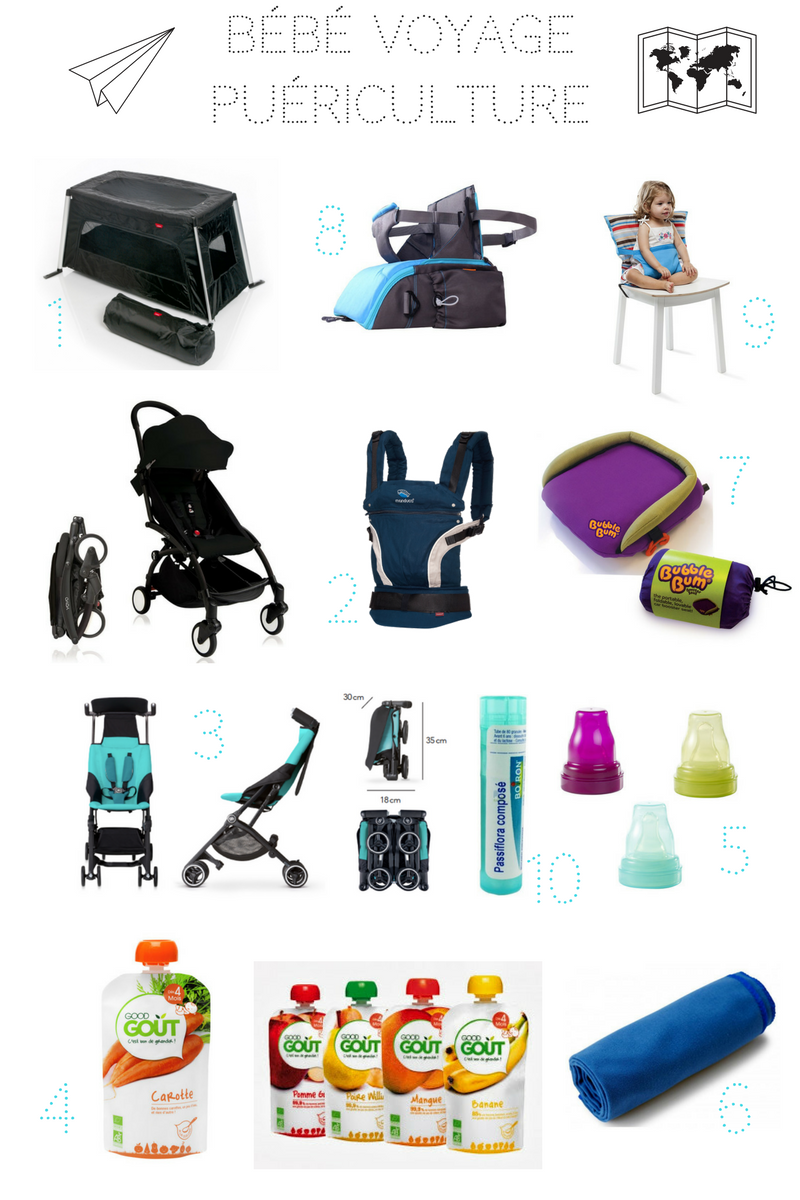 .
1- Le lit parapluie Phil and ted
Le lit parapluie est souvent un indispensable. Il n'y a pas forcément de lit sur place ou du moins adapté pour bébé. Vous connaissez tous le lit parapluie classique on ne peut plus lourd et gros ! Quasi impossible à prendre dans l'avion, on est d'accord ! Après plusieurs recherches et tests, nous avons jeté notre dévolu sur le Phil and Teds. Petit, léger et compact il tient à l'aise dans une valise et ne vous plombe pas la totalité des kilos autorisés pour voyager ! C'est un peu plus compliqué pour le monter mais il a le mérite d'être vraiment adapté pour n'importe quel type de voyage et surtout ceux que vous souhaitez léger ! Il dispose aussi d'une moustiquaire parfait pour les pays chauds !
L'option moins cher :
2- Le porte bébé 
Manduca Ou Ergobaby à vous de choisir ! Ces portes bébés préformés et physiologiques sont top pour les vacances. C'est l'idéal quand vous ne pouvez pas prendre la poussette, quand votre grand ne veut plus marcher après avoir parcouru la ville à pied (je porte encore Mister A de 5 ans dedans) et c'est aussi très pratique dans l'avion pour que bébé s'endorme tout contre vous. Pas de risque qu'il glisse et tombe quand vous êtes dans les bras de Morphée !
L'option moins cher :

3- La poussette Pockit ou la Yoyo
Si vous souhaitez la poussette je ne pourrais que vous conseiller d'en prendre une compact et léger. Je ne les ai pas testé mais j'en ai beaucoup entendu parler. La yoyo rentre en cabine comme bagage à main et la pockit est la plus petite poussette sur le marché. À vous de comparer les prix et l'utilité ! Pour notre part nous utilisons la Mac Laren Quest, pratique et lègere aussi mais moins que les deux autres que je vous présente !
4- Gourdes de purées légumes/fruits
Si vous souhaitez ramener les plats de bébé je vous conseille donc les gourdes de purées salées et sucrées ! Ça prend carrément moins de place dans la valise et au moins c'est facile à consommer ! nous les avions utilisé pour la Thaïlande et c'était parfait. Quand on est vraiment pas sur de trouver sur place c'est vraiment l'option parfaite. Quant au lait en poudre vous pourrez le transvaser dans un sac de congélation, pareil pour les céreales en poudre.
5- Les tétines Beaba
On est d'accord, on va pas prendre une cargaison de biberon. Je vous conseille donc d'investir dans quelques tétines universelles Béaba. Elle s'adapte aux bouteilles d'eau en plastique (pas très écolo mais vous pouvez garder la même bouteille plusieurs fois en la nettoyant bien) Nous nous servions de ce système pour les biberons de lait de bébé luciole et c'était parfait !
L'option moins cher
6- Les serviettes en Microphibre de Décathlon
Les serviettes en microphibre sont parfaites pour être multi usage. Petites couvertures, drap, protège vent/soleil, serviette de bain, de plage, plaid pour le sol. Bref à chaque besoin son utilisation et en plus elles sèchent ultra vite. Un must have !
7- Le siège auto Bubble Gum
Parfois surtout dans les pays d'Asie, on est vraiment pas sur de pouvoir trouver un siège auto dans les taxis. Même si ça n'est vraiment pas l'idéal pour la sécurité de l'enfant c'est toujours mieux que rien. Vous pourrez aussi vous en servir comme chaise haute d'appoint. Le siège est gonflable et ne prend donc pas de place une fois dans la valise.
8- Le sac à langer chaise haute
Découvert il y a quelques années j'ai trouvé l'idée on ne peut plus géniale ! Un compartiment pour les affaires de bébé puis un autre qui permet d'asseoir bébé pour qu'il soit à la hauteur de la table. C'est pratique j'adore l'idée et pour le coup ça pourra vous servir n'importe ou !
9- La chaise nomade
Vous pourrez en fabriquer un vous -même : mon tuto ici. Ou alors en acheter un pour trois fois rien ! La chaise nomade permet à l'enfant d'être bien maintenu sur la chaise même si elle ne lui permet pas d'être plus en hauteur, attention. Ça reste un bon système d'appoint pratique et évolutif !
10- Les granulés Passiflora
Quelle enfant n'est pas surexcité à l'idée de voyager ?! Passiflora en comprimé sera votre ami ! Quelques granulés dans le biberon d'eau avant de partir et le tour est joué pour un bambin un chouilla plus apaisé !
Si vous avez des choses à rajouter, n'hésitez pas ! C'est fait pour ça !
Epingle cet article sur Pinterest !