Fallait bien s'y coller non ? Noël c'est le mois prochain ! OUAIS !!! À nous les cadeaux à foison, le papier cadeau et les emballages qui vont rendre mon bébé luciole méga heureux, car oui tout le monde le sait c'est vraiment les papiers cadeaux qui plaisent le plus aux bambins.
Cette année 2 listes au papa Noël. Non 3 ou 4. Allez hop tout le monde y passe ! Des idées pour les enfants mais aussi pour les parents !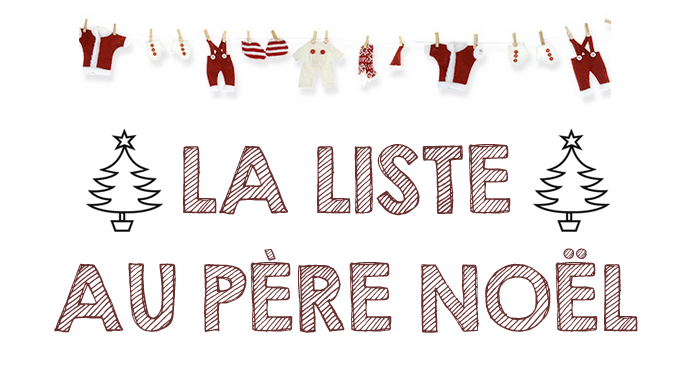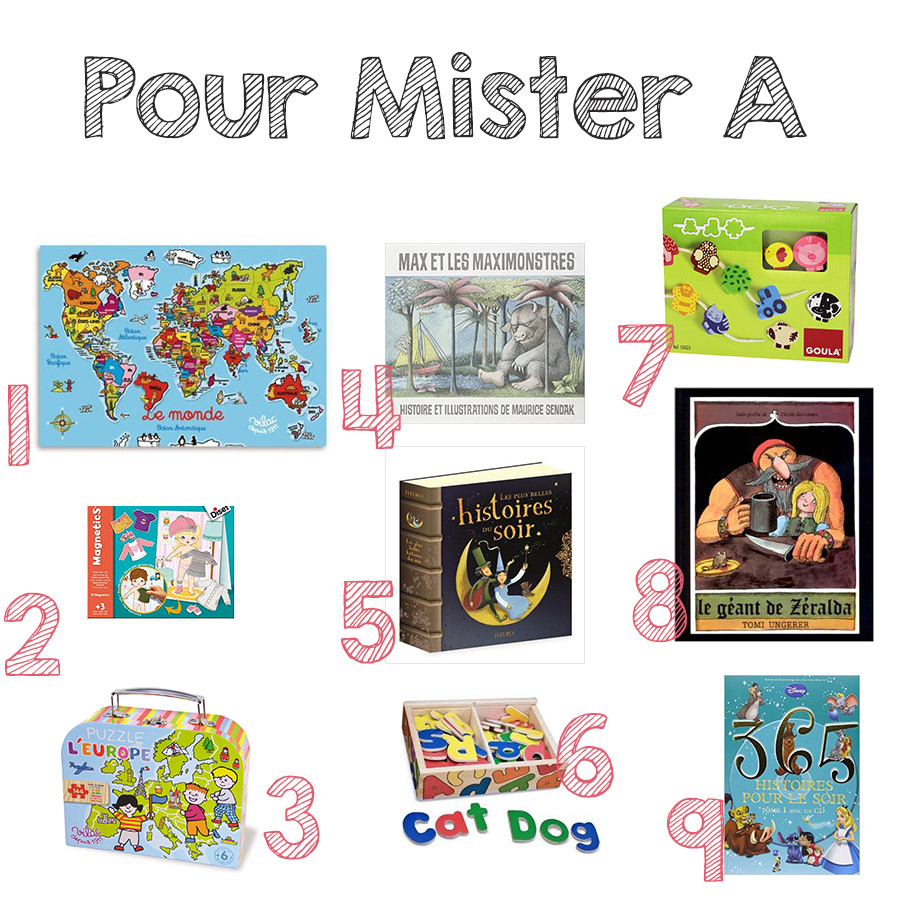 1- J'ai découvert un puzzle magnétique Janod chez doudouetstilleto et j'ai adoré le principe ! Il est un chouilla trop cher mais dans mes recherches j'ai vu celui de Vilac à moins de 25 euros qui m'a l'air très sympa aussi ! Dispo ici
2- Voici un petit jeu rigolo qui permettra d'habiller la petite fille. C'est magnétique pour jouer à l'infini ! nous avons déjà le même genre de jeu pour le visage et mister A aime beaucoup. Succès garanti pour ce jouet donc ! Dispo ici à 11,60 euros
3- Comme vous je vous le disais dernièrement Mister A adoooore les puzzles ! Voici une petite mallette Vilac contenant un puzzle de l'Europe. Dispo ici pour moins de 20 euros.
4- Voilà bien longtemps que nous n'avons pas lu de nouvelles histoires. Il est temps d'acquérir quelques livres ! Les livres de Sendack sont ceux de mon enfance. J'aimerais beaucoup à mon tour les raconter à Mister A. Dispo ici pour 8,50 euros.
5- Pour continuer dans les livres en voici un qui compile plusieurs contes. Les plus belles histoires du soir dispo ici pour 9,95 euros.
6- Un jeu qui est dans mon panier depuis vraiment longtemps ! Des petites lettres en bois aimanté de chez Melissa and doug. Parfait pour jouer sur le frigo pendant que maman cuisine. Dispo ici pour 12,99 euros.
7- Mister A a découvert les perles à enfiler chez sa tata. Coups de coeur pour lui et moi ! Dispo ici pour 20,60 euros.
8- Le géant de Zeralda est un livre que j'affectionne tout particulièrement. Ma maman me l'a beaucoup lu et j'aimerais beaucoup le retrouver dans la bibliothèque des enfants ! Dispo ici pour 5,60 euros.
9- Et pour finir un livre que je voulais acheter pour nos vacances en Thaïlande mais que je trouve trop gros au final. Ce livre regroupe des petites histoires de Disney avec un cd. Dispo ici pour 13,90 euros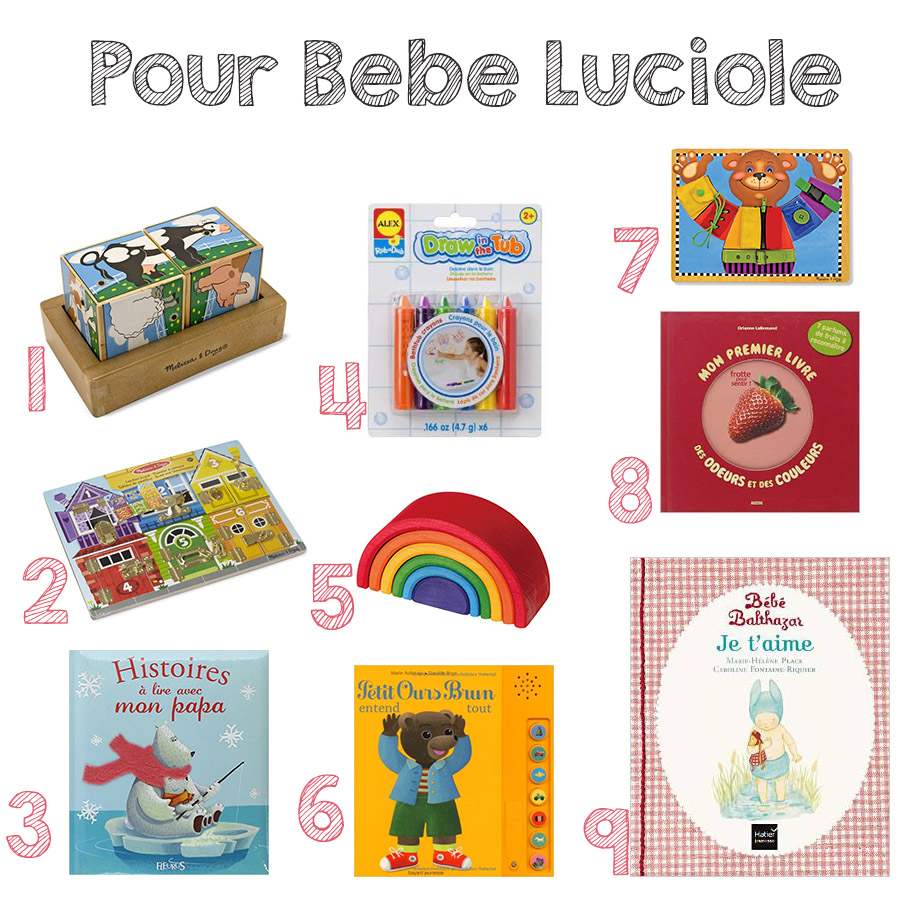 1- J'aime beaucoup l'idée des cubes qui font du bruit quand on les assemble. Ici ce sont des bruits d'animaux. Encore un chouette jeu de Mélissa and Doug ! Dispo ici
2- Voilà bien longtemps que ce tableau est dans mon panier amazon ! Il est recouvert de fermeture diverse pour aider l'enfant à apprendre comment les utiliser ! Dispo ici
3- Un joli livre à lire avec papa. Dispo ici
4- Des feutres pour le bain. De quoi initier bébé luciole au coloriage ! Dispo ici
5- J'ai complètement craqué pour cet arc-en-ciel et connaissant mon bébé luciole je suis sûre qu'il adorerait aussi ! Dispo ici
6- Ici on est fan de petit ours brun depuis toujours ! Voici un petit livre avec des sons qui plaira à tous les coups. Dispo ici
7- Dans le même principe que le plateau 2, celui ci est plus basé sur les vêtements et autres systèmes d'ouverture textile. Dispo ici
8- Un joli petit livre pour initier bébé luciole aux différentes odeurs fruitées ! Dispo ici
9- Et pour finir un joli petit livre à lire tout les deux. Dispo ici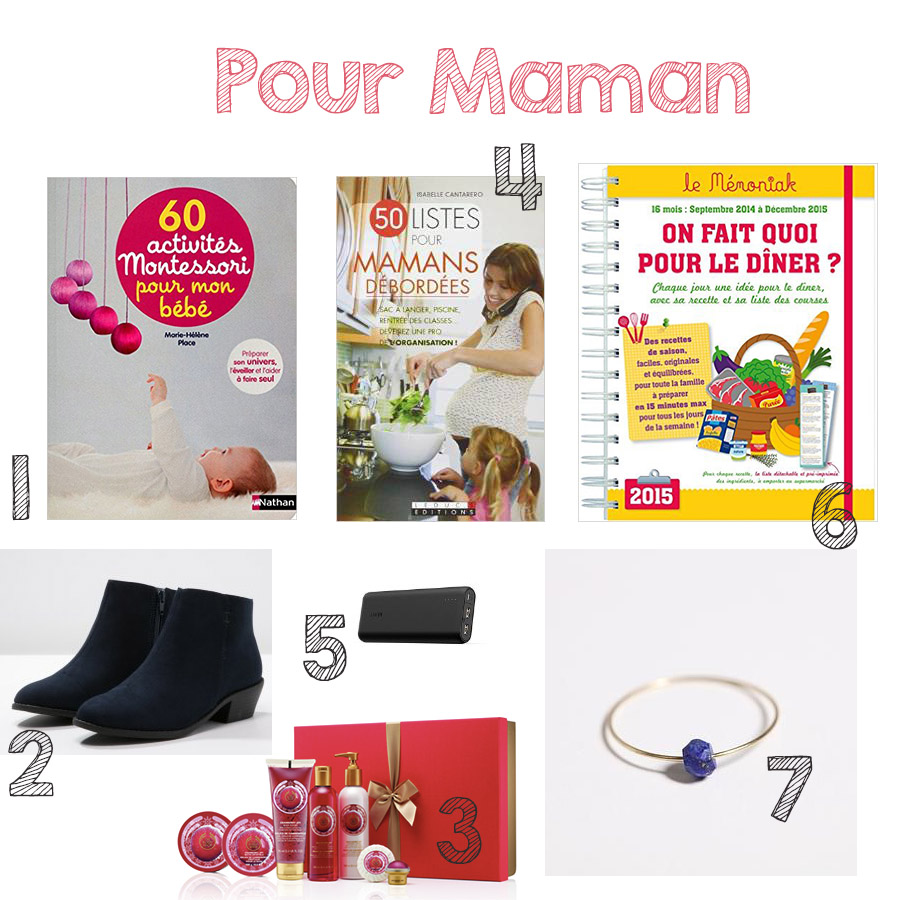 Voici quelques idées cadeaux pour une maman ! Ce sont des petites choses que j'aimerai avoir et que je zieute depuis quelques temps d'ailleurs !
1- Je suis toujours en recherche d'activités pour occuper les garçons. Voici un livre qui me donnera de l'inspiration ! Dispo ici
2- Des petites botinnes trouvées sur sarenza. Simples mais qui me plaisent bien !
3- Un coffret de produits de beauté de la boutique. J'en avait reçu 2 l'année dernière et j'ai adoré !
4- Un petit livre pour s'aider à s'organiser, c'est pas de refus ! Dispo ici
5- Une batterie externe car forcément je n'ai jamais de batterie sur mon téléphone.
6- Toujours en manque d'idée pour les repas ? Voici un chouette agenda qui regroupe plusieurs recette dont une par jour. Dans la recette il y les ingrédients pour 4. Ya plus qu'à ! Dispo ici
7- Je suis tombée amoureuse de ces petites bagues toutes fines et originales. J'aime particulièrement ce type de bijoux délicat. Ana Ruiz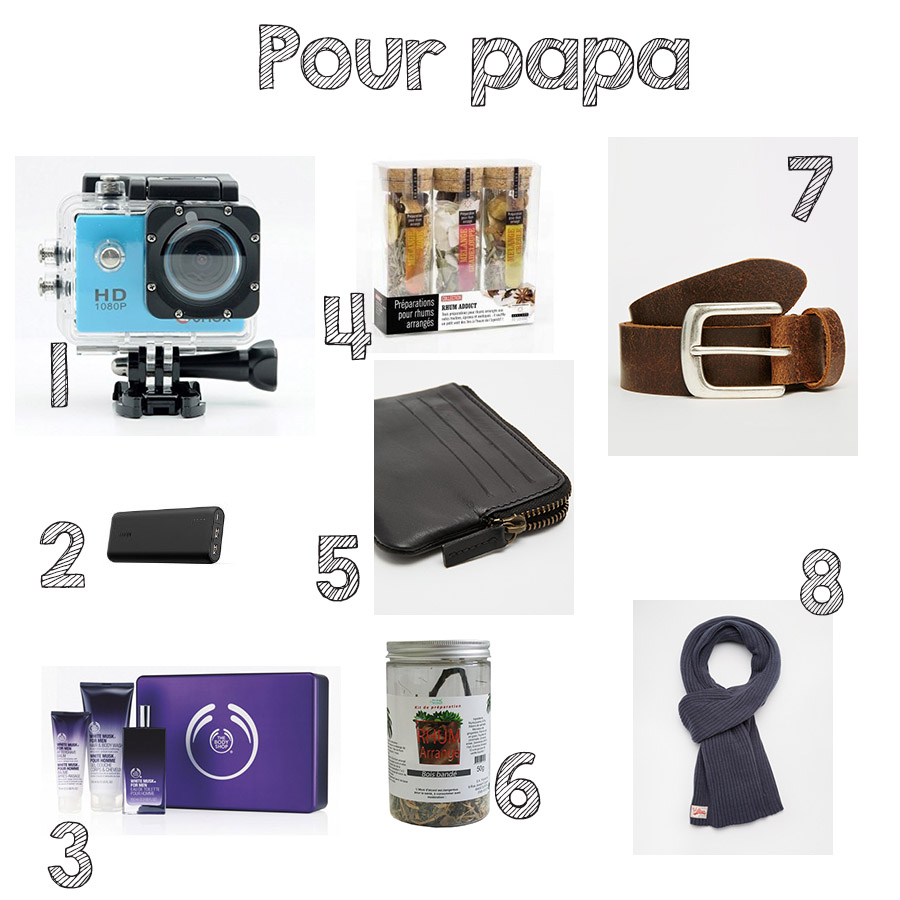 Les idées cadeaux pour les hommes c'est toujours délicat. On a souvent l'impression qu'ils ont tout ou alors c'est eux qui sont exigeant ! Pas évident de trouver des petites choses pour faire plaisir ! voici donc quelques idées piochées par ci par la
1- Un appareil style go pro mais en beaucoup moins cher. Testé et approuvé, nous l'avons à la maison !
2- Une batterie externe pour le téléphone ou la tablette. De quoi être toujours joignable !
3- Un coffret de chez bodyshop.
4- Un petit kit pour faire du rhume arrangé. Dispo ici
5- Un petit porte feuille de poche. Sobre et passe partout. Asos.
6- Dans le même principe que le kit, se sont des mélanges à mettre directement dans une bouteille de rhume. Dispo ici
7- Une jolie ceinture chez Asos
8- Et pour finir une écharpe ! Asos